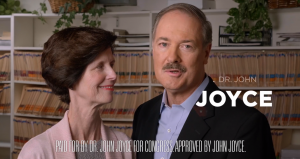 Dr. John Joyce is introducing himself to voters in the 13th Congressional district with his first ad in the Republican primary.  
"'Keeping His Word' will reaffirm what voters across central Pennsylvania already know – Dr. Joyce is ready to serve us on a new level," Joyce's campaign manager Adam Breneman said.  
The 30-second ad features Joyce's wife, Dr. Alice Joyce, saying "unlike career politicians John keeps his word."  
"That's why I know he'll protect social security and medicare, and lower taxes for our families," she continues.
The ad is airing on network TV in the Johnstown-Altoona market, and on cable district wide and will likely run through election day.  For a first time candidate, an ad introducing them to voters ahead of the primary can help, especially with a state Senator and state Representative in the field.
You can view the ad below.