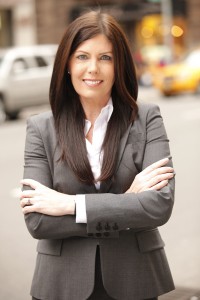 No one would think twice if Kathleen Kane kept her distance from Barack Obama. A passionate Hillary Clinton supporter in 2008, the Attorney General hopeful is a first time candidate with a virtually blank slate. For anyone running for office, associating oneself with any elected official – particularly one so polarizing as a President – carries risks.
But Kane isn't backing away; she's embracing Obama. She headlined a press call Monday afternoon where she directly backed the President and blasted Mitt Romney.
"I'm here because I believe that the President is focused on getting more Americans back to work, putting more money into the process of building for and working, and creating an economy that's built to last over the test of time," she said.
It's not her first foray into the presidential contest. Kane appeared with First Lady Michelle Obama at a campaign event in Philadelphia last week.
Republicans were practically salivating as they sought to confirm that Kane was taking part in the call, which also included a Chester City firefighter and a Massachusetts state representative. It was organized to respond to this recent comment by Mitt Romney regarding Obama's job policies:
"He wants another stimulus, he wants to hire more government workers. He says we need more firemen, more policemen, more teachers. Did he not get the message of Wisconsin? The American people did. It's time for us to cut back on government and help the American people."
Kane criticized the GOP hopeful, and credited Obama as the true job creator.
"These jobs are important to all families. We all benefit from the work they do. Investing in teachers, firefighters and policemen is an investment well worth making," Kane said.
"I don't believe cutting back on teachers, firefighters and policemen helps the American people. They do very special jobs and make a very special contribution to our community. Our community can't function without police officers. They can't function without teachers and they can't function without fire fighters who do their job."
Her Republican opponent Dave Freed said her full-throated participation demonstrated "extremism."
"Kathleen Kane is proving what we have said all along. She will be a rubber stamp for the liberal Washington agenda that's devastated our economy and the bottom line for Pennsylvania working families," said Freed campaign manager Tim Kelly.
"Whether is it is Obamacare, stripping away our Second Amendment, or a government takeover of the private sector, Kane cannot be trusted to be an independent guardian for the rights of Pennsylvanians."
So far, Freed's campaign has stuck almost completely to an anti-Obama playbook to try and define Kane. They criticized her stance on Obamacare last week.
So why would Kane give them a clear shot by taking part in today's call?
It could boost her exposure, particularly in voter-rich Philadelphia and the southeast part of the state where she is continuing her outreach after defeating former Rep. Patrick Murphy (D-Bucks) in the primary.
Kane's Communications Director Josh Morrow said it is a function of her sincere opposition to Romney.
"As a former prosecutor and a candidate for Attorney General, Kathleen Kane understands the need to have fully funded police and fully funded firefighters," he said. "To hear Mitt Romney suggest otherwise is ludicrous."
Kane served as an assistant District Attorney from Lackawanna County; Freed presently serves as Cumberland County District Attorney.
Team Romney responds
The presidential contest for the past few days has been a battle of the gaffes, so to speak. Democrats seized on Romney's remarks shortly after the President took heat for comments he made Friday.
Obama argued that the public sector needs help and said, "private sector is doing fine".  Republicans – including Freed today – have had a field day with the sound bite, attacking Obama via conference calls, videos and responses.
"President Obama may think the private sector is 'doing fine,' but he can't seem to get his story straight on the public sector. Last Friday, he said the real weakness in the economy was state and local government employment – yet a month earlier, he touted the fact that government employment had fallen on his watch. Americans deserve a president who understands how to grow the economy and has a real plan to get our country back to work," said Romney spokesman Ryan Williams.