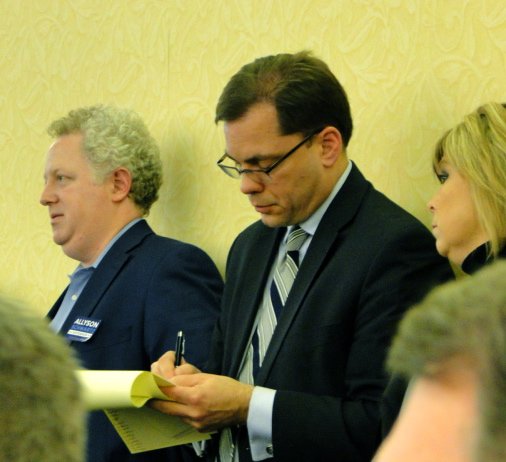 Hershey — Harrisburg City Councilman Brad Koplinski garnered more than half of the Democratic state committee votes on Saturday, but no candidate won the two-thirds needed to win a party endorsement in the race for Lieutenant Governor.
"We feel great about the outcome. We've always said this is a statewide effort, and we brought support from all parts of the state," Koplinski said.
"This is a victory. We're gonna take this and continue to move forward with strength to the May primary."
Koplinski is no stranger to the state committee process; he has helped numerous candidates navigate endorsement votes during his time as a political advisor.
The nominating, voting, tallying, re-voting and re-tallying for the Governor's race took so long that the Lieutenant Governor endorsement process was expedited as the Hershey Hotel rented out the room to another event later this evening.
Committee members were not permitted to give nominating speeches for LG candidates.
Koplinski took 139 votes on the first ballot, State Sen. Mike Stack got 77, former Congressman Mark Critz got 40, State Rep. Brandon Neuman won 29, Bradford County Commissioner Mark Smith got 20 and Harrisburg city advisor Brenda Alton took 7.
Alton was kicked off the ballot for the second round of voting.
In the second round, Koplinski performed even more decisively: Koplinski 151, Stack 80, Critz 31, Neuman 25, Smith 16.
As in the governor's endorsement vote, the committee required a two-thirds vote to endorse a candidate in the race. There were 303 votes cast, and the "magic number" was 202.
Scuttlebutt
Jim Burn announced he's running for another term as party chairman following kind words from leaders across the state.* Congressman and Philadelphia party chairman Bob Brady said Burn was the best chairman he's ever worked with – and he's worked with 13 of them. Regional chairmen bestowed him cliche gifts from their districts including buckwheat cakes, whiskey, a Peeps shirt, Lebanon bologna, etc.
The HDCC is recruiting a number of non-traditional candidates – including many women. The committee hired Aubrey Montgomery to set up a fundraising farm team for its candidates.
Corbett campaign manager Mike Barley came to eye up the potential competition; he stood along the back to take in the gubernatorial debate on Friday.
*Correction: This article originally stated that Burn had already been re-elected as party chairman.