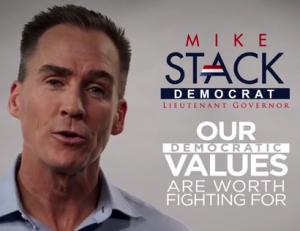 State Senator Mike Stack has consistently out fundraised his Democratic competitors for lieutenant governor, and in this final financial report, Stack used those funds to mount a very competitive media campaign.
From April 1st to May 5th, Stack's fundraising totals petered out a bit, with the state Sen. only bring in $65,162 in campaign contributions.
However, Stack carried over an impressive $700,560 from the previous financial report, and he wasn't afraid to spend what he had. In a little under 40 days time, Stack spent $663,212 on his campaign, a total much higher than his fellow Lt. Gov. candidates. As of May 5th he has $102,510 cash on hand.
Contributions
Notable contributions to Stack's campaign during this final financial cycle was $7,500 Dilworth Paxson LLP, a Pennsylvania law practice, and $5,000 from businessman John Conway of Crown, Cork & Seal.
For the most part, the donations that Stack received in the days leading up to the primary were primarily smaller donations — but those donations added up.
Expenses
The bulk of Stack's expenses came from a large media buy that he purchased through Snyder Pickerill SP Media Group to the tune of $600,000. Stacks ads began airing earlier this month.
The rest of Stack's expenditures included consulting work, event tickets, as well as postage and mailers.
Stack faces Harrisburg City Councilman Brad Koplinski, State Rep. Brendan Neuman, Bradford County Commissioner Mark Smith, and former congressman Mark Critz in the upcoming Democratic primary on May 20th.