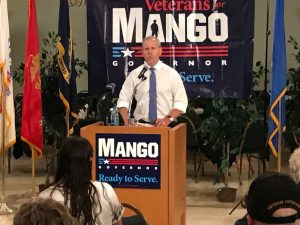 Allegheny county businessman and Gubernatorial candidate Paul Mango launched his first coalition of his campaign, veterans for Mango. 
"Our Veterans, those currently in uniform, their families, and those serving our veterans all deserve better leadership in the Commonwealth.  In fact, every Pennsylvanian does. And as your Governor, I will ensure they get it," Mango said in his remarks.  
The Mango campaign announced that Major General Wes Craig (ret.) and Brigadier General Dave Papak (ret.) will be the co-chairs of the veterans advisory board for the campaign.  
Mango, a West Point graduate, is making veterans a central part of his campaign.  
"It is impossible to alienate my veteran background, because that is who I am and that is what half of my campaign is about.  I am absolutely going to be hand in hand with our veterans," Mango told PoliticsPA in an interview after the event.  
After the event, Mango touched on healthcare in Pennsylvania, and his views on the issue.  
Mango wants to focus on Pennsylvania based healthcare.  
"I am very much in favor of customizing our healthcare system so we can take care of all of our vulnerable folks at a much lower cost with much greater access than what we have today," Mango told PoliticsPA.   
"There are many ways to do that, through waivers, through block grants, and design a system along with our providers, our health insurers, our doctors, our nurses, that meets the needs of Pennsylvanians and that does not just adhere to the federal regulations coming out of Washington."
Mango's points echo some of the pro-Better Care Reconciliation talking points, but he has not spoken directly about the BCRA.  Mango does not have an upside by commenting directly on the bill.  Speaking against the bill will likely anger party insiders, and speaking in favor of the bill may anger general election voters.  
The Pennsylvania Democratic Party has been targeting both Mango, and state Senator Scott Wagner on the BCRA. 
"Rather than join Republican governors throughout the United States who are denouncing Trumpcare, Paul Mango and Scott Wagner refuse to face the public about their support for a bill that will increase health care costs for hard working Pennsylvanians, kick 22 million people off their insurance, including seniors who will be forced out of nursing homes and out onto the streets with nowhere to turn, women who will have their access to care cut off, and people suffering from the disease of addiction," Pennsylvania Democratic Party Communications Director Beth Melena.