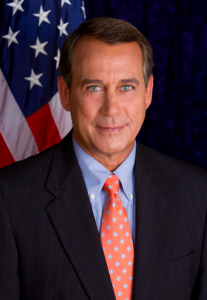 Pa. Republican voters think the GOP and President Obama should compromise to avoid the fiscal cliff, a new poll shows. They're split as to why Romney lost and who is the GOP's national leader.
Fiscal Cliff
Tax increases for wealthy Americans are almost a foregone conclusion for Pa. Republicans, a majority of whom say they would support such a policy if it keeps the country from going over the fiscal cliff.
That's according to a recent poll by Mercyhurst Center for Applied Politics of 430 registered Pa. Republicans. The margin of error for the survey, conducted from Dec. 5 to 13, is plus or minus 4.7 percent. 96 percent of respondents said they voted in the 2012 election.
81 percent of voters believe that going over the fiscal cliff – an automatic package of tax increases and spending cuts designed to be politically untenable – would harm the U.S. and Pa. economies.
A strong majority of GOP voters – 60 percent – say that a budget agreement should include a combination of tax increases and spending cuts, as opposed to only spending cuts (28 percent) or tax increases (4 percent).
The view in part reflects that of the GOP members of Congress from Pa., many of whom have said they would be willing to vote for a compromise package which includes tax increases for higher earners.
Most (77 percent) say President Obama should compromise even if he has to sacrifice some of his beliefs. But a majority (53 percent) say the same thing about Republicans in Congress.
Only 35 percent said Republicans have shown enough willingness to compromise since the election. 50 percent said no. 75 percent said that Obama hasn't been willing to compromise.
Obama has said he will not yield and will refuse any package that maintains lower, Bush-era tax rates on families earning over $250,000 per year. In recent days GOP House Speaker John Boehner has hinted that he would be willing to compromise on that point.
64 percent of GOPers are pessimistic about the likelihood of both sides reaching a deal.
2012 Election and the GOP's future
Pa. Republicans had several ideas about why Mitt Romney lost the 2012 election. Here's the rundown from Mercyhurst: voters' misperceptions about the Republican candidate or the candidate's personality (12 percent); a poorly run Republican campaign (11 percent); voters were enticed by Obama's promise of entitlements (9 percent): the Republican position on issues or the candidate himself were not appealing to minority voters, including women (8 percent); or voters were misinformed/uneducated on the issues (7 percent). None said Romney lost as a result of failing to unite the GOP base.
Pa. Republicans – like their counterparts around the country – aren't sure who is the leader of the GOP nationally. Asked for a name, 54 percent said there was no leader or couldn't give a name. Of those who did, 14 percent said Boehner, 11 percent Romney, 6 percent said vice presidential candidate and Congressman Paul Ryan, 3 percent named Florida Sen. Marco Rubio and 3 percent name New Jersey Governor Chris Christie.
Asked what type of person comes to mind when they think of the GOP, Pa. Republicans said: conservative (29.2 percent); hardworking/self-reliant individual (9 percent); a moral/Christian person (8 percent); businesspeople (7 percent); the rich (6 percent); patriots (4.1 percent); middle/upper-middle class (3 percent); and reasonable/realistic people (3 percent).
Here's the full polling memo.