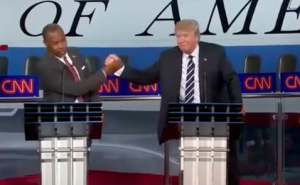 The 2016 GOP PA presidential primary is wide open.
That's the big conclusion to draw from the new Mercyhurst poll on the Republican field.
Donald Trump, who dominated the race over the summer, is still in the lead but he'll have to share the spotlight (can't imagine he'll like that) with rising candidate Ben Carson. Both candidates sit at 18%.
Undecided technically came in third with 17% but Jeb Bush actually takes the bronze with 9%. Carly Fiorina, meanwhile, took 8%.
The rest of the field finished as follows: Chris Christie (4%), Marco Rubio (4%), Ted Cruz (4%), Mike Huckabee (3%), John Kasich (3%), Rand Paul (3%), Rick Santorum (3%).
Favorability Ratings
While Carson holds only a share of the lead, he is far ahead of all his competitors when it comes to favorability. The neurosurgeon has a 70% favorable rating against just 13% of respondents who have an unfavorable view of him.
Rubio (62/17), Bush (59/34) and Fiorina (58/17) all had a higher favorability rating than co-leader Trump (57/40).
The remaining the candidates broke down in this order: Huckabee (57/32), Christie (54/39), Santorum (54/39), Cruz (48/26), Paul (38/45), Kasich (27/23).
The Mercyhurst Center for Applied Politics surveyed 483 registered Pennsylvania Republicans from September 21st to October 1st. The margin of error is 4.5%.