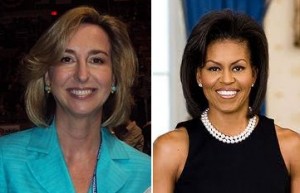 It's a big day for the eastern half of the state, with representatives of both presidential campaigns making stops.
Former Massachusetts Lt. Governor Kerry Healey, who served with Mitt Romney, is keynoting a Republican women campaign event and training session in Philadelphia at 12:30. She will have opened a campaign victory office at 10 a.m.
In addition, Pennsylvania's "Women for Mitt" Coalition Chair Bernie Comfort will speak. The focus of the training it discussion of Romney's plan to strengthen the middle class and emphasizing his proven leadership as Massachusetts Governor.
Here is the info:
Philadelphia Victory Office Opening
Philadelphia Victory Office
10 a.m.
529 South 4th Street
Philadelphia, PA 19147
Republican Women Campaign Update and Grassroots Training Event
Featuring former Massachusetts Lt. Governor Kerry Healey
12:30 p.m.
Hilton Philadelphia City Avenue
4200 City Avenue
Philadelphia, Pennsylvania
The First Lady's stops are going to occur later in the day at 2 p.m., 4 p.m. and 7:10 p.m. in West Philadelphia, Montgomery County and Bethlehem, respectively.
Planned speech topics include the stakes of the election for Pennsylvania voters and organizing efforts within communities. As part of the campaign's new It Takes One effort, the First Lady will place special effort on the Obama for America national grassroots network.
Here is the info:
First Lady Michelle Obama Speaks to Philadelphia Grassroots Supporters
2 p.m.
Bobby Morgan Arena on the campus of University of the Sciences
Athletic Recreation Center
730 South 43rd Street
Philadelphia, PA 19104
First Lady Michelle Obama Speaks to Montgomery County Grassroots Supporters
4 p.m.
Upper Dublin High School
800 Loch Alsh Avenue
Fort Washington, PA 19034
First Lady Michelle Obama Speaks to Bethlehem Grassroots Supporters
7:10 p.m.
Johnston Hall at Moravian College
221 West Elizabeth Ave
Bethlehem, PA 18018
PoliticsPA will be reporting on these events later today.