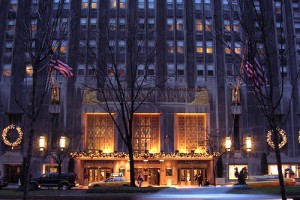 The 115th Pennsylvania Society weekend is in the books. Here is the rundown of rumors, rumblings and news from Midtown Manhattan.
Don't miss yesterday's updates, with a potential U.S. Senate hire for Kathleen Kane and much more.
Gubernatorial hopefuls
There were no big changes in the Democratic primary for Governor as most of the candidates made the rounds.
No one reported seeing former Auditor General Jack Wagner, who is considering a bid. Many agreed that it made a 2014 run seem less likely. If he had decided he wanted to run, this weekend would have been the ideal place to kick off his bid.
Rob McCord had the overall best weekend and is in his element interacting with people in large groups.
He's also good, as he noted during a speech to the Pa. Manufacturers Association, at public speaking.
During his remarks, several attendees told PoliticsPA, McCord took thinly veiled shots at a few of his opponents. He wasn't born into money, he said (Tom Wolf); he hadn't spent his career in government (Katie McGinty), and he can speak well extemporaneously. The last remark was a jab at Congresswoman Allyson Schwartz, who moments before had delivered a prepared speech in which she lost her place for several moments.
Of the 8 Democratic hopefuls, only McCord and Schwartz were invited to speak to the PMA.
McGinty's fundraising
Former DEP Secretary Katie McGinty's reputation showed the biggest improvement over the weekend. Attendees who hadn't met her previously told PoliticsPA that she was charming and did well in the setting.
Campaign finance reports aren't due from the 2014 candidates until the end of January, but that hasn't stopped the politico crowd here from speculating.
A handful of on-the-fence Democratic donors and operatives said McGinty touted her fundraising numbers to date. She apparently said her campaign would report having raised between $2 million to $2.5 million by year's end.
McGinty's campaign did not make any official announcements.
Torsella for Senate – again?
Attorney General Kathleen Kane wasn't the only potential 2016 U.S. Senate candidate to make the rounds this weekend. Ambassador Joe Torsella was working the receptions, too, and making some buzz.
He was appointed the U.S. Representative to the United Nations for Management and Reform in 2011. In 2009, before Arlen Specter switched parties, he was Gov. Ed Rendell's pick to run as a Democrat for U.S. Senate in 2010.
State legislative races
The weekend saw lots of members of the state House and Senate, as well as many of the people considering challenges to them.
The word from York County was that state Rep. Ron Miller (R) will be the establishment GOP's pick in the open state Senate seat. Conservative businessman Scott Wagner has already declared his candidacy for the seat, which is open due to the retirement of Sen. Mike Waugh (R-York). It will set up a good old fashioned establishment-vs-conservative showdown.
Wagner advertises on PoliticsPA.
Thanks to redistricting, HD-22 moves from Allegheny County into Allentown and at least one potential candidate was making the rounds in NYC. Maria Montero, Executive Director of the State Commission on Latino Affairs and Commission for Women is considering a run on the Republican side and stopped by Congressman Charlie Dent's reception. The district was drawn to reflect the state's growing Hispanic population and is considered a like Democratic seat. Dems looking at a run include Allentown City Councilman Pete Schweyer and community activist Tatiana Tooley.
State Rep. Margo Davidson (D-Delaware) made the rounds. So did Billy Smith, the criminal defense attorney challenging her in the primary.
Philly mayor
Prospective 2015 candidates for Philadelphia mayor came to NYC this weekend, too.
Council President Darrell Clarke held a well attended reception and City Controller Alan Butkovitz pressed the flesh.
Attorney Nelson Diaz floated the possibility of a bid. And experiences civil servant Terry Gillen, currently Mayor Nutter's representative in Washington, DC, also made the rounds.
Biden and the dinner
Attendees of the official PA Society dinner gave Vice President Joe Biden good reviews for his speech, especially the beginning when he talked about his blue collar roots. Most agreed that the half hour speech went down toward the end as Biden segued to immigration reform, moving away from his folksy extemporaneous style to toe the White House line.
A handful of servers at the dinner (served in the unionized Waldorf Astoria hotel) wore stickers during the Saturday event to show their opposition to a bill working its way through the state House. The bill, which will be taken up by the House this week, would block local municipalities (i.e. Philadelphia) from enacting paid sick days legislation.
Keegan Gibson contributed to this report.