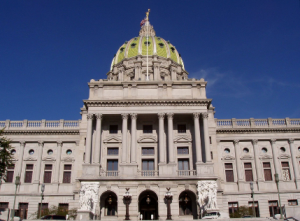 State Rep. Cris Dush (R-Jefferson) is hopeful his bill to impeach four Democratic Supreme Court Justices will move forward in the coming weeks.
"I haven't had anybody that has said we don't have the constitutional standing for this, or they can actually point me to where the judiciary had the ability to do what it did," Dush told the Associated Press.
According to the Associated Press Dush is hoping to address the Republican caucus in closed door session during the week of April 30th.  
Dush introduced the impeachment proceedings following the state Supreme Court's decision to throw out to old Congressional maps, and after the legislature and Governor Tom Wolf could not agree on a new map the court redrew the state's maps.  The impeachment resolutions have 12 cosponsors.
State House Speaker Mike Turzai's spokesman Neal Lesher said Turzai has "reservations with the broad nature of the resolutions."  
State House Democratic spokesman Bill Patton said his caucus has "zero support" for impeachment.