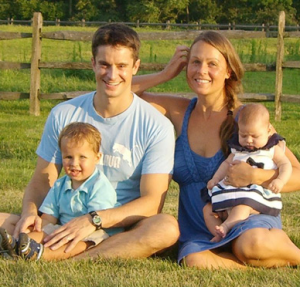 Kevin Strouse registered to vote in Bucks County on March 26 this year. He's hoping that next year, his new neighbors will support him over incumbent Rep. Mike Fitzpatrick.
"If this is a campaign about who's lived here the longest, then I'm not your candidate. But a lot of the issues we're facing right now that are affecting this county have to do with nationwide problems," he said.
Instead, he says the 8th district needs a representative who solves problems.
"My biggest frustration the last couple years has been how the dysfunction in Congress has harmed our ability to conducted the mission at the CIA," he said. "We're trying to focus on the enemy abroad and instead we're getting yanked into emergency budget meetings."
He rejects the suggestion that he carpetbagged to the 8th district in order to run for office.
"The question for my family was what made the most sense for use to live, and this preceded any decision to run for Congress."
Strouse's wife is a consultant in the field of healthcare IT and his parents had moved away from his childhood home in Delaware County. He says he is in the final stages of the hiring process at his soon-to-be employer, but declined to give specifics pending his employment becoming official.
He is in the final stages of selling his home in Washington, DC. He, his wife and their two daughters chose to rent a home in Bensalem because the couple may soon start a small business and, "we wanted to be prudent." He emphasized that he'll be in Bucks County permanently.
It's an issue that Republicans can use only delicately: pushing too hard on the residency question gives Strouse the chance to highlight his resume.
"For the last 12 years, it's not like I was sipping martinis on a beach somewhere. I was off serving the country either as a [U.S. Army] Ranger or CIA," he said.
But it's not just the GOP. Bucks County Democrats also have been grumbling about this young man who showed up on their doorstep only a few weeks ago and now wants their support for Congress. He only became a Democrat this year.
Many of them first heard his name in the April Bucks County Intelligencer report when he announced his run.
"There was no prior contact," said Bucks Democratic Committee Chairman John Cordisco. But that's changed, he said.
"He is out there aggressively at this stage. In watching him I see a lot of what I saw in Patrick Murphy. It looks like Mr. Strouse is following in that mold."
That's fitting. Strouse said his choice to get into the race came as a result in part of conversations he had with Murphy, the man who beat Fitzpatrick in 2006 but lost to him in 2010. He, too, moved to the district after several years of military service.
Murphy then connected Strouse with the Democratic Congressional Campaign Committee.
"I've been friends with him for years. I've known his family. I think he's got a great profile and he's working it. He's our best shot," Murphy said.
"He intended to run, I don't know about this cycle, but I think they DCCC talked to him and he gave it a look."
Murphy has been acting as Strouse's ambassador in the district, helping him set up meetings and phone calls several Bucks County Democrats tell PoliticsPA.
Strouse is in luck: local Democratic politicos haven't exactly been beating down the door to challenge Fitzpatrick. The Congressman pledged not to seek re-election in 2016, a presidential year when the party typically does better in the district. Many of the Dems eying the seat seem content to wait.
Cordisco says two or three other potential contenders have spoken to him about the race; so far no one has taken any visible steps toward running.
Strouse may have a clear path. His candidacy was the lede in a recent Washington Post article about Democratic hopes to win a majority in the U.S. House.
It helps when candidates like Strouse don't have a voting record to target.
"Strouse's candidacy reflects an emerging Democratic strategy for taking back the House from Republicans after the tea party takeover of 2010," the Post reported.
"The best way to defeat the conservative, ideologically driven GOP, Democrats say, is to field non-ideological 'problem solvers' who can profit from the fed-up-with-partisanship mood of some suburban areas."
To do that, the consensus is that they'll have to beat incumbents like Fitzpatrick. The 8th is the Dem-friendliest Pennsylvania seat currently occupied by a Republican.
It's easier said than done. Fitzpatrick lost to Murphy by 0.6% in 2006, a tough year for Republicans. He narrowly won Bucks County where he had served as a County Commissioner. He beat Murphy by 7% in the GOP wave of 2010.
After redistricting, the southern Montgomery County and northeast Philadelphia precincts that enabled Murphy's win are gone. In their place are GOP-friendly voters in northern Montco.
In 2012, Fitzpatrick cruised to re-election by 13% despite being similarly targeted by Democrats and Mitt Romney won the newly drawn 8th by 0.1%.
Just to be safe, this week the National Republican Congressional Committee added Fitzpatrick to its program for vulnerable incumbents and sought to link Strouse to Minority Leader Nancy Pelosi.
PoliticsPA is seeking comment from Fitzpatrick. Typically his office defers to the NRCC.
Strouse hasn't yet laid out his political platform and hasn't been expansive on his positions, beyond reiterating his problem solving credentials. He said he favors marriage equality (gay marriage) and would have voted for the Manchin-Toomey background check bill. Asked to single out his biggest problem with Fitzpatrick's record, he cited the Congressman's 3 votes for Rep. Paul Ryan's (R-WI) budgets and declined to list more.
In the meantime, the U.S. Army veteran and longtime CIA officer will need to acquaint himself with the process of running a campaign; he has never sought public office before.
His first and only staffer is Finance Director Justin Lamorte, who previously worked for Iowa Congressman Leonard Boswell.
Murphy, Strouse's biggest backer, says he's optimistic.
"I think Kevin has a better chance than I did in 2006," Murphy said.