By Keegan Gibson, Managing Editor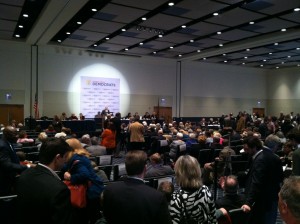 State College — Democrats will have an open primary for the office of Attorney General. Campaigns failed to mustered the required two-thirds majority (212 of the 318 voting members) in order to clear an endorsement at the meeting of state committee Saturday.
Facing off were Kathleen Kane, a former prosecutor from Lackawanna County; Dan McCaffery, a former prosecutor from Philadelphia; and Patrick Murphy, a former Congressman from Bucks County.
Late Friday night into early Saturday morning, all three Democratic candidates for Attorney General courted, wooed and whipped votes at the state committee endorsement meeting.
But they all fell short, as the fractured committee members lauded the credibility and viability of each of the three candidates.
Murphy led the first ballot, 161 votes to McCaffery's 99 and Kane's 58. There were 2 abstentions.
With Kane dropped from the second ballot by rule, Murphy finished with 191 votes to McCaffery's 125. Kane's supporters split between the two candidates.
At various times throughout the weekend, all three candidates and their campaign staffers indicated that they believed no endorsement was likely, and that their focus was preventing an opponent from sneaking a win.
Murphy's strong performance can be credited to years of ground work and party building; many members spoke of times that he had visited their counties and supported their local party.
He was nominated by Montgomery County Chairman Marcel Groen, and seconded by Kathy Kane (no relation), the Luzerne Co. Chairwoman; State Rep. Mark Longietti of Mercer County, the northwest caucus chairman; and Monica Kline of Lebanon County.
Groen battled back against recent flak Murphy has received for not having taken the Pa. Bar or trying a case in a Pa. court. He emphasized that Murphy, as a JAG officer with the 82nd Airborne, has tried "thousands of cases," and "prosecuted terrorists." Murphy took the bar exam in Minnesota, which has reciprocity with Pa., and was admitted to the Pa. Bar in 2004. Groen is a partner with law firm Fox Rothschild, where Murphy is of counsel.
McCaffery's experience shepherding his brother, Seamus, through the state committee process paid off a bit in that he prevented Murphy from reaching the threshold. He came on strong during the weekend, including a solid performance at the candidates forum on Friday night.
He was nominated by Chuck Pascal of Armstrong County and seconded by Eileen Wagner, former Allegheny County Register of Wills and PJ Monella of Clearfield County.
In the same sense it was a win for Kane, who prioritized the endorsement least of the candidates. She was nominated by Lackawanna County Chairman Harry McGrath and Barbara Daily Danko of Allegheny County.
Much scuttlebutt over the weekend focused on where the Philadelphia delegation, whose Chairman Bob Brady supports McCaffery, would end up. On the first ballot, the city went for McCaffery 40, Murphy 8 and Kane 1. On the second ballot, it was McCaffery 40, Murphy 9.
Asked if they would leave the race if the committee endorsed an opponents, Kane and Murphy said no. Only McCaffery said yes. All three said afterwards that they would continue to seek the nomination.
Cumberland County District Attorney Dave Freed is the sole Republican candidate. AG Linda Kelly, appointed to fill Gov. Tom Corbett's term in the office, has said she will not run for the office.
Pa. Rep. Eugene DePasquale of York County, the only candidate for Auditor General, won the party's endorsement by acclamation.
"It is a true honor to receive the endorsement from the Democratic State Committee," DePasquale said in a statement. "Democrats share my vision that I will be an Auditor General who will hold Governor Corbett accountable and will protect the interests of Pennsylvania's working families."
So too did incumbent Senator Bob Casey and Treasurer Rob McCord.