The Obama campaign launched a new ad Monday, knocking Romney for his failure to release tax documents.
The ad, "Makes You Wonder," is set to air in the Pittsburgh media market, and greet Mitt Romney as he visits the area Tuesday.
The ad hits Romney hard on his offshore bank accounts, pointing out that Romney has paid a meager amount of taxes on a substantial income, saying he has used "every trick in the book" to keep as much wealth as he could.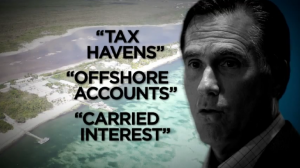 "Romney admits that over the last two years he's paid less than 15 percent in taxes on $43 million in income. Makes you wonder if some years he paid any taxes at all."
The ad goes on to play a clip from Romney himself, saying that "I've put out as much as we're gonna put out."
It ends with the familiar notion: that Mitt Romney is hiding something from the American people.
While this newest ad may not pack the same punch as the last one – which featured a now-infamous clip of the presidential hopeful singing "America the Beautiful" – it does signal a shift in attacks: from Romney's outsourcing record, to his allegedly shady tax history.
It's a distraction, says Romney's PA spokeswoman Kate Meriwether.
"With no rationale for re-election, President Obama has resorted to the tactics of a typical politician desperate to hold on to power," she said. "Rather than talk about the issues that are important to middle-class families, President Obama has decided to mislead voters and run a campaign based on character attacks. He once criticized politicians who make a 'big election about small things.' But with 23 million Americans struggling for work and a faltering economy, that is all he has left to run on."
The PA AFL-CIO is also getting into the action. They "welcomed" Romney Tuesday morning by noting that Irwin, where the candidate is speaking today, is just a few miles away from an Ampad facility. Ampad is one of te companies bought by Bain Capital and later shut down, though the Romney campaign has said that the company had already begun laying off workers before Bain arrived on the scene and arguably prolonged its life.
AFL-CIO spokesman Yuri Beckelman said Ampad wasn't the only PA victim.
"During bankruptcy proceedings it was revealed that Ampad owed 65 Pennsylvania businesses, like neighboring JK's County Market of Mt. Pleasant, a total of $1.45 million," he said. "According to the Ampad trustee report, those businesses in Pennsylvania owed money by Ampad received less than $0.002 for every dollar owed."