(Updated at 6:00 p.m. to add quotes from Barletta spokesman Shawn Kelly)
By Sari Heidenreich, Contributing Writer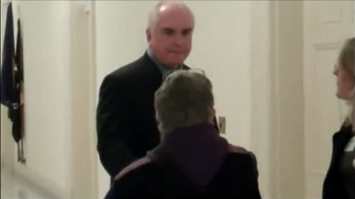 Pennsylvanians asking for an extension for benefits for the long-term unemployed visited Reps. Lou Barletta (R-Luzerne) and Mike Kelly (R-Butler) Tuesday afternoon to request that Congress extend these benefits and fix the jobs crisis.
"We came down here because there's a jobs crisis," one protester told Kelly. "A lot of people, some people in this room, their unemployment benefits are going to expire soon … and it's up to Congress to act on that."
The visits were part of a weeklong Take Back the Capitol protest organized by a variety of community, labor, and Occupy groups from around the country. SEIU Healthcare Pennsylvania Spokesman Neil Bhaerman said the movement has drawn about 3,000 people a day and he expects at least 5,000 to have participated by the movement's end on Friday.
Protesters who choose to do so are staying overnight at area community centers, churches, union halls, and other such venues.
"In December, Congress will vote on whether to renew unemployment insurance benefits—if they don't, more than 2 million people will lose all income in January" Take Back the Capitol's website says. "People have set up multiday encampments in Washington, D.C., during times of crisis before—it's what the veterans did to protest their poor treatment after World War I—and it made a difference."
Pennsylvania's SEIU Healthcare union has helped organize the event and and tweeted pictures Thursday showing them, "Stuffing a stocking with coal for Sen. [Pat] Toomey."
In a video posted by SEIU, protesters asked Kelly if he believed the richest Americans should "pay a little bit more so that everybody can benefit."
"I'm not agreeing with you and I appreciate you being here," Kelly said. "But what I'm saying is that I agree with you, [on] the tax code, the way it works right now is not good."
Kelly said he supports tax reform but recognized that that term is not specific.
Barletta meet briefly with protesters saying he would "look very closely" at unemployment benefits and "all that."
Barletta's spokesman Shawn Kelly said the congressman "will consider different options before casting any vote" and that the freedom to protest is "what makes the United States of America the greatest country on Earth."
Barletta said, "It's very important to get everybody back to work to get them a job and hopefully get them on the right track again."
Barletta added that his district has the worst unemployment in the state.
Protesters, who have regularly been employing Occupy Wall Street terminology, asked Barletta if he would continue to support — and take money from — corporate and special interests or support the 99%.
"I always put the constituents fist, it's about people not politics," he said. "I stand for 100% of Americans."