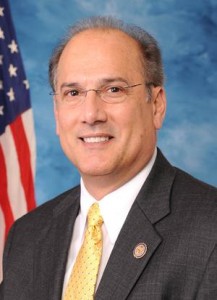 In Pennsylvania's 10th Congressional District, incumbent Tom Marino (R-Lycoming) looks well-positioned at the moment to win re-election with relative ease.
PA-10 strongly leans Republican, it is rated a R+12 by the highly-regarded Cook Political Report, and Marino has done a fine job fundraising according to this year's 1st quarter financial reports.
Tom Marino
Marino raised $128,510.00 and has a sizeable $381,015.07 on hand; he has only spent $28,134.18. This is a good quarter for Marino and a strong showing for an incumbent.
The most sizeable donation that Marino received was from Lockheed Martin, an aerospace and defense technology company, which gifted $3,000 to his campaign.
Scott Brion
Marino's Democratic challenger, businessman Scott Brion, did not measure up to Marino's high fundraising totals. According to his financial report, Brion only raised $18,985.00 and has only $13,388.16 left in cash on hand. The Democratic challenger hasn't spent much either, only $5,571.23, and he also currently has $1,445.71in debt.
Brion certainly has an uphill battle ahead of him, considering the sizeable gap in campaign funds between himself and Marino, and the largely Republican-voting population in PA-10.
Brion is the only candidate running in the Democratic primary in May.
Nick Troiano
A wild card in this race is Independent Nick Troiano, whose financial reports are unavailable. Troiano jumped into the race just this month and plans to make a run at Marino's seat.
He made the following statement about Marino's finances:
"In his never-ending quest to reelection, Congressman Tom Marino continues to take tens of thousands of dollars in campaign cash from special interest political action committees.Nearly sixty cents of every dollar the Congressman has raised in the last three months has come from a political action committee (PAC), rather than an individual.

"The Congressman's fundraising raises serious and troubling questions about whom he is truly representing in Washington. Congressman Marino is supposed to be representing his constituents from counties including Lycoming, Pike, Bradford, Susquehanna and Mifflin –– not his campaign contributors from companies including Lockheed Martin, Northrop Gruman, Raytheon, Cigna, Merck and Praxair.

"Big money has too much influence in our politics, as corporations, unions, lobbyists and PACs drown out the voice of ordinary voters and corrupt our policy-making process. Recent Supreme Court cases, from Citizens United to McCutcheon, have only exacerbated this problem. That is why I support comprehensive campaign finance reform that would limit big money in politics and empower small donors, and that is why my campaign will not accept a single dollar from any special interest.

"If Congressman Marino wants to truly represent the people, then he should return the quarter million dollars he has raised so far this election cycle from special interests and join me in only accepting his campaign funds from the people."