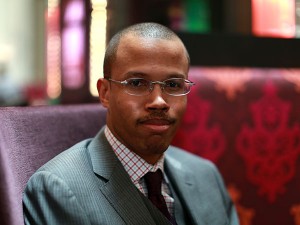 In the latter half of 2014, Rep. Chaka Fattah came under fire when multiple members of his inner circle flipped to help investigators in an ongoing public-corruption probe.
In August, longtime Fattah aide Gregory Naylor admitted he lied to investigators about an illegal $1 million loan that was funneled into Fattah's failed 2007 mayoral bid. In November, Washington, D.C. political consultant Tom Lindenfeld pleaded guilty to wire fraud in connection with the same loan.
An unfazed electorate gave Fattah 87% of the vote in November to win his 11th term in the 2nd District.
In the midst of this investigation, Fattah's son, Chaka 'Chip' Fattah Jr., is awaiting trial over $200,000 in missused bank loans which fueled his public persona as a self-proclaimed "entrepreneur, socialite (and) lifestyle mogul." Fattah Jr. believes he is "collateral damage" in the Justice Department's extensive investigation of his father.
The Associated Press reports that the FBI believes Fattah Jr. has misspent loans and nearly $1 million in federal education funds which he acquired as a 27-year-old school management subcontractor who lived in a $600,000 Ritz-Carlton condo, bought lavish cars for himself and his girlfriend, and racked up $33,000 in casino gambling debts.
Authorities have said that Fattah Jr. was behind in filing his annual tax returns but filed a slew of them at once in late 2010. Finding the activity suspect, IRS agents raided his condo a year later.
Last month, prosecutors released a 38-page trial memo claiming Fattah's companies were just shells for business loans to be used on "extravagant personal living expenses."
The FBI has grabbed Fattah Jr.'s former Drexel University roommate Matthew Amato, a partner in early ventures who took out three fraudulent bank loans in 2005, to testify against him.
Serving as his own lawyer, Fattah Jr. won an early battle this month when a U.S. appeals court delayed the case to review one of his numerous legal challenges.
"If I was still represented by counsel, then the trial would have started two weeks ago," Fattah Jr. said.
"The government has no idea what they're talking about in terms of most of the trial memo. Just in term of details. Details that turn innocent conduct into criminal conduct."
Although never earning a degree at Drexel, the Associated Press reports that Fattah Jr.'s LinkedIn page listed a B.S. degree, which he called "a mistake."
The same Justice Department lawyers, Paul Grey and Eric Gibson, are working both Fattah cases.
"I think the government looks at me as collateral damage in their overzealous attempt to embarrass people," Fattah Jr. said. "I've done nothing wrong."
Amato, Naylor, and Lindenfeld will be sentenced this month but have new court dates in July so they can assist in the ongoing investigations.
"Having been through that process for the last few year, it's not surprising that somebody would plead guilty," Fattah Jr. said of the convictions.
"I think the government will do anything to get somebody like me that has a famous name."