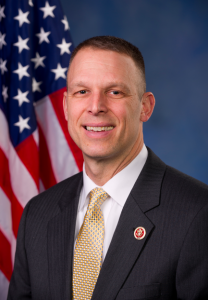 Representative Scott Perry (R-York) officially announced his re-election bid for Pennsylvania's 4th congressional district.
"I ran for Congress two years ago because I want the American legacy we pass to our children to be stronger than the one we inherited," Perry said. "Every constituent I talk with feels the same way -regardless of political party."
"I'm honored and privileged to serve the people of the 4th Congressional District in the U.S. House of Representatives, and I'll continue to work as hard as I can to faithfully represent them and seek solutions that will help renew the promise of America," he added.
Perry won the open PA-4 seat back in 2012, defeating Democrat Harry Perkinson by a wide margin. More impressively, Perry won that year's Republican primary — a seven-way field — with more than 50 percent of the vote.
The first year Representative is currently running unopposed and looks poised to win the district without much of a problem. Perry still raised $73,679.90 in the fourth quarter of last year; he spent $59,816.60 and currently has $90,750.81 in hand.
Perry is a military man and still holds the position of Colonel in the Pennsylvania Army National Guard. He is an avid supporter of balancing the federal budget and what he calls "common-sense health care reforms."