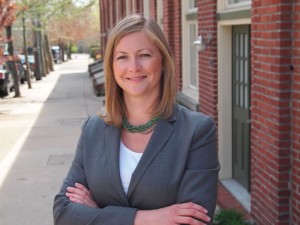 Shaughnessy Naughton picked up local endorsements at the wholesale level in her bid for the Democratic nomination in PA-8.
The chemist and businesswoman announced endorsements from 40 local officials in the district today, ranging from township supervisors to school board officials to Democratic committee people.
"I feel incredibly fortunate to have earned the trust of these local leaders," Naughton said. "These endorsements stand as a testament to the need for new leadership in Bucks and Montgomery Counties. When I get to Washington I'll work hard for the issues that mean the most to my neighbors. I promise to push for further investment in education, infrastructure and technology following the belief that we cannot cut our way to prosperity. Today's endorsements represent an expanding coalition of local leaders who are tired of our gridlocked Congress and who want results—not excuses and empty promises."
Naughton faces veteran and DCCC candidate Kevin Strouse in the Democratic primary, but today's announcement shows that she's been some serious local work to win the race.
"Naughton has shown through her ability to run her family's small business that she knows how to navigate a tough economic climate," Joyce Hadley, Vice Chair of Bensalem Democratic Organization, said. "She's a proven job creator who is in touch with the problems that the Eighth District's middle class are facing, and if elected she'll take her business acumen to the Capitol. Her plan for economic growth is both progressive but pragmatic, and I'm proud to say I back her for the Eighth District."
Here's a full list of the latest endorsements:
Bob Harvie, Falls Township Supervisor
Tom Peterson, Milford Democratic Committeeman
Joyce Hadley, Vice Chair of Bensalem Democratic Organization
Philip Calabro, Newtown Township Supervisor, Newtown Democratic Committee person
Bill Foster, Council Rock School Board member
Marilyn Larson, Newtown Democratic Committee person
Paul Cohen, Newtown Democratic Committee person
Jesse Waldenville, Newtown Democratic Club treasure, State Assembly District 31 Vice
Chairman
Irene Boyle, Vice President of the Neshaminy School Board
Scott Brown, Hatfield Township Commissioner
David Apfelbaum, Northampton Democratic Committee person
Jacqueline Palmer, Northampton Democratic Committee person
Lydia Sakaitis, Northampton Democratic Committee person
Det Ansinn, Council President of Doylestown Borough
Wendy Margolies, Doylestown Borough Councilwoman
Nancy Taflin, Doylestown Democratic Committee person
Tim Brennan, Doylestown Democratic Committee person
Mardi Harrison, Doylestown Democratic Committee person
Sue Gordon, Doylestown Democratic Committee person
Randee Block, Doylestown Democratic Committee person
Noni West, Doylestown Borough Councilperson, Doylestown Democratic Committee
person
Joe Hunter, Yardley Council President, Democratic Committee person
Zach Rubin, Yardley Democratic Committee person
Joanne Lewis, Yardley Democratic Committee person
Debbie Silver, Former Upper Southampton Township Democratic Committee Municipal
Chair
Joe Pearson, Chair, Upper Southampton Democratic Club
Judy Braunston, Bucks County Democratic Committee Executive Board member
Sue Wolpin, Lower Southampton Democratic Committee person
AJ Sciolla, Richboro Democratic Committee person
Brian Kline, Quakertown Democratic Committee person
Shirley Andres, Quakertown Democratic Committee person
Nancy Roberts, Quakertown Democratic Committee person
Mitzy Kitzmiller, Levittown Democratic Committee person
Robert McMonagle, Langhorne Democratic Committee person
Helen Tai, Solebury Township Supervisor
Dr. Janice Solkov-Kaufman Solebury Democratic Committee person
Nancy Tkach, Bristol Democratic Committee person
Vanya Tyrell, Bristol Businesswoman
Harry Arnold, Chair of the Democratic Party of Middletown Township
Julie Smith, Vice Chair of Democratic Party of Middletown Township, Middletown
Democratic Committee person
Bill Appleton, Middletown Township Committee Person
Bill Cosen, Middletown Democratic Committee person
Larry Vladimir, Middletown Democratic Committee person
Jena Champion, Middletown Democratic Committee person
Stacie Metzler, Middletown Democratic Committee person
Helene Ratner, Vice President of PA NOW, Middletown Committee Person, Former
Deputy Chair of Bucks County Democratic Committee
Neil Jesiolowki, Upper Black Eddy Democratic Committee person
Joyce Hadley, Vice Chair of Bensalem Democratic Organization
Jeff Dence, Vice Chairman of the Falls Township Board of Supervisors, Falls Township
Democratic Committee person, IBEW 269 member
Bob Harvie, Falls Township Supervisor
Joe Wilkinsen, Falls Township Democratic Committee person, IBEW 269 member
Andrew Goulet, Falls Township Democratic Committee person, IBEW 269 member
Marcus Brandt, Milford Democratic Committee person
Tom Peterson, Milford Democratic Committee Person
Roy Harvey, Warwick Democratic Committee person
William Ritter, Chairman of Bucks County Democrats 143rd Assembly District
Tom Alvaré, Former Plumstead Township Supervisor, Plumstead Democratic Committee
Person
Mindy Alvaré, Chair of the Plumstead Democratic Club
Ruth Foster, MS, PhD, Buckingham Upper 1 Democratic Committeeperson, and
Environmental Scientist
Carl Schaeffer, Buckingham Committee Person
Mark Moffa, Vice Chair of Lower Makefield Democratic Club
Betty White, Treasurer of Montgomery County Area 2 Democrats
Norval Reece, former Pennsylvania Secretary of Commerce and Bucks County activist
John Jordan, Chief of Staff for PA Legislative Black Caucus