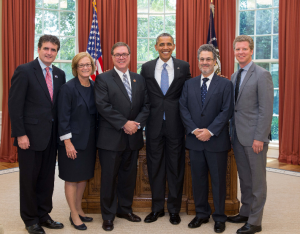 Members of Congress are getting ready to go on summer vacation, but not before the Republican-controlled House of Representatives decided to sue President Obama over his alleged overuse of executive power.
The vote highlighted the polarization of Congress as all the Democrats voted against the resolution and all but five Republicans voted for the it. Every representative from Pennsylvania voted along party lines.
The Republicans believe President Obama is utilizing executive orders in order to bypass Congress on important issues..
Mike Fitzpatrick cited Jonathan Turley when explaining the vote. Turley is a prominent lawyer and legal scholar who has testified in front of Congress about issues dealing with executive power. He has accused both the Bush and Obama Administrations of executive overreach and even testified for the impeachment of President Clinton.
"He expressed at the judiciary committee that, unfortunately, the president has overstepped his authority under the constitution, fairly clearly, that the House of Representatives has a very strong and firm basis to object and that an action would have merit," Fitzpatrick said. "I would hope the president would come to Congress and ask for changes to the law rather than ignoring, bypassing or skirting the law, that's what we seek."
Democrats, meanwhile, are claiming that the lawsuit is a complete waste of time and money. Representative Bob Brady, for instance, wrote on Twitter, "Instead of wasting taxpayer dollars on this lawsuit against the President, the GOP should pass the Fair Minimum Wage Act! #DoYourJobHouseGOP"
Whether the lawsuit is a stunt depends on what side you ask. In any event, the move to sue President Obama is another sign of the antagonism between the two political parties.