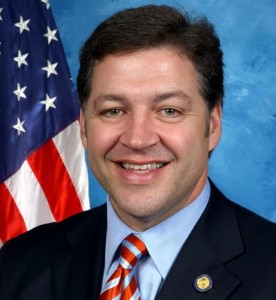 Rep. Bill Shuster (R-Briar) just released a radio ad that accuses Tea Party opponent Art Halvorson of being negative in his campaigning against Shuster.
The Shuster ad, entitled 'Negative Nancy', calls Halvorson out on a few things that he mentioned in his own recent radio ad.
"Now the politicians in Washington want to gouge us even more with a new tax. Leading the push for this new tax is our own career politician big spender Bill Shuster," Halvorson's radio ad narrates. "Shuster is supporting a new proposal backed by liberals that would tax us on how far we drive. It's called track and tax. Shuster, inventing more ways to tax us, is this the kind of leadership we need? After 40 years of the Shuster dynasty and over 17 trillion dollars in debt taxpayers need a new voice."
Shuster's campaign is using their ad to debunk Halvorson's claims.
"Art Halvorson has run a relentlessly negative campaign since day one," Sean Joyce, Shuster's Campaign Manager, said today. "He's been a 'Negative Nancy', lying about Congressman Shuster's proven conservative record every chance he gets."
Here's how the ad goes:
Man 2- Typical Halvorson. He's run a relentlessly negative campaign for the past 9 months. Attacking Bill Shuster thousands of times online and in every speech he's given.

Man 1- Art's gone as far as comparing Bill to Nancy Pelosi.

Man 2- Nancy Pelosi? Bill Shuster's a proven conservative.

Man 1: I know. Bill voted against Obamacare and voted 40 times to repeal it, voted against the debt ceiling increase and to cut $5 trillion in spending.

Man 2: And don't forget Bill voted to cut over $10 Trillion of wasteful spending from the budget.

Man 1: That doesn't sound like Nancy Pelosi.

Man 2: The only Nancy in this race is Art Halvorson, he's a negative Nancy.
To make sure that no stone was left unturned, Shuster's campaign put out a Halvorson Fact Check post addressing each line of Halvorson's radio ad.
"Art Halvorson has been running around for month lying about Bill Shuster's record because he has nothing else to run on," Joyce said.  "The problem for Art is that people around here just won't stand for his ridiculous negative attacks about our conservative Congressman Bill Shuster.  Art Halvorson will literally say anything to get elected, and we already have enough of that in Washington."
Halvorson and Shuster will face off along with Travis Schooley in the Republican primary for PA-9, the seat that Shuster has held since 2001.