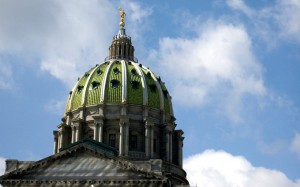 Can it be true?
The PA House of Representatives has scheduled marathon sessions on Wednesday to try to end the six-month budget impasse, after several votes Tuesday cleared the way for a $30.8 billion spending plan agreed to by the State Senate and Gov. Tom Wolf.
The House narrowly moved the bill to full consideration on the House floor, with a final vote of 100-97. 19 moderate Republicans joined 81 Democrats to work toward passing a budget package before leaving for the holidays. 5 lawmakers – 3 GOP, 2 Dems – did not participate in the final vote.
House Majority Leader Dave Reed – who championed a stopgap proposal on Monday – said the House will not be able to move forward until the Senate signals its intent for tax revenues.
"We can't send a budget bill to the governor without a tax code bill to pay for it," Reed said.
It is unclear what the tax plan will look like, but it is estimated the state will need to raise $650 to $700 million to balance the budget. Wolf is looking for closer to $1 billion to address the state's structural deficits.
"I think we're a step closer to the budget we all want," was Wolf's only comment to reporters on Tuesday.
It is also unclear where pension reform legislation will fall in the final budget, though it is a key part of the GOP-controlled state Senate's agreement with Wolf.
The PA House is scheduled to be in session starting at 9 a.m. on Wednesday, while the State Senate has scheduled voting sessions for 1 p.m.
House Republicans who crossed the aisle:
Stephen Barr
Brian Ellis
Harold English
Frank Farry
Robert Godshall
Kate Harper
Adam Harris
Harry Lewis
Nick Miccarelli
Duane Milne
Bernie O'Neill
John Payne
Marguerite Quinn
Chris Ross
James Santora
John Taylor
Tarah Toohil
Mike Vereb
Martina White