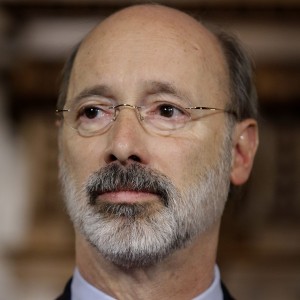 Gov. Tom Wolf will be under intense scrutiny after House and Senate leaders wrote to the state's Auditor General to investigate the administration's spending over the last eight months.
Senate Appropriations Committee Chairman Pat Browne and his House counterpart Bill Adolph are asking Eugene DePasquale to review state payments processed from July 1st to December 29th – when Wolf signed a partial $23.4 billion budget.
The Wolf Administration made an "exceptionally high" number of "payments that impacted the 'health, safety and protection of Pennsylvanians'" since the end of the 2014-15 fiscal year, the legislators' letter to DePasquale says.
Wolf spent $24.7 billion during the impasse – over a billion dollars more than he released with his line-item veto – while the Treasury Department said the administration has spent another $12.8 billion since the start of the year, Brad Bumsted of the Tribune-Review reports.
Though lawmakers should be debating the 2016-17 budget, all attention in Harrisburg remains on this year's spending plan that's now 34 weeks late.
Budget Secretary Randy Albright – who spent more than five hours in front of the Senate Appropriations Committee on Monday – laid out two paths for legislators to end the budget impasse: revert to the $30.8 billion framework agreed to by Wolf and GOP leaders or prompt a "fiscal catastrophe" by disagreeing with the governor, Chris Comisac of Capitolwire reports.
The committee spent most of Tuesday working through 2015-16 budget issues, before taking a look at Wolf's spending proposals for next year.
"We're going to embark over the next three weeks on somewhat of an unusual and uncustomary process, viewing components of spending plans over, essentially two years," Chairman Browne said. "The normal protocol is an annual appropriations review with a proposal on a base of spending that was fully enacted the prior year."