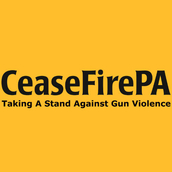 CeasefirePA released their grades for the Democratic gubernatorial candidates based on a questionnaire each of them filled out.
Scores were given out of 100 possible points: Rep. Allyson Schwartz and former DEP Secretary Katie McGinty earned perfect grades, State Treasurer Rob McCord scored an 84 and former Revenue Secretary Tom Wolf came in with a 79.
Republican candidates Bob Guzzardi and Governor Tom Corbett declined to answer.
"I'm concerned," Ceasefire's Shira Goodman said of Corbett's refusal. "We hoped he would be a leader on this issue, but he's been quiet since Sandy Hook."
"It's always going to be an issue for the sitting governor," Phil Goldsmith, also of Ceasefire, said. "The governor has to be ready to take on these issues."
None of the candidates who participated disagreed with the regulations proposed by Ceasefire, but perfect scores were only given for categorical support; points were deducted for qualifications and caveats.
The survey included 19 questions on gun safety regulations, background checks, inventory reporting, ammunition sales, lost and stolen reporting, child access protections and limits on high capacity magazines.
"The proposals presented in the questionnaire fall within the sphere of reasonable regulation or limitation, and have been upheld by courts in many jurisdictions and are in effect in many other states. CeaseFire Pennsylvania therefore believes that neither the Second Amendment nor the Pennsylvania Constitution would bar the lawful enactment of these proposals," their report reads. "Moreover, the proposals presented will not cost the taxpayers for their enactment and enforcement; indeed, reducing gun violence will save millions of dollars in health care costs, first responder costs, lost wages, and the other economic costs that result from gun violence."
The scores released today do not indicate an endorsement of either Schwartz or McGinty, but CeasefirePA will decide in the next few weeks whether they will endorse in this race at all.