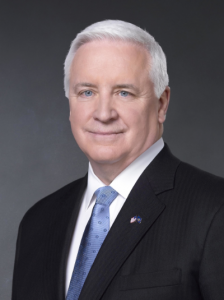 Governor Tom Corbett outraised all but one of his Democratic challengers, but spent double what he brought in.
"Our campaign is in a strong position from a fundraising and organizational perspective. We are executing our plan that is rooted in building a grassroots structure with a heavy emphasis on using new technologies and data that will help us share Governor Corbett's message and record with the voters," Corbett's campaign manager Mike Barley said in a statement.
He outraised former Revenue Secretary Tom Wolf, former DEP Secretary Katie McGinty and State Treasurer Rob McCord and was only beat by Rep. Allyson Schwartz in this reporting period.
Out of the five candidates, he is second in cash on hand with $5,935,250.32, falling behind Wolf.
Contributions
Corbett's largest contribution comes from multi-millionaire and part-owner of the Phillies, John S. Middleton of Bradford Holdings who contributed $250,000 to the incumbent governor.
While no other individual or group topped Middleton, energy and infrastructure organizations lined up to support Corbett. The governor made transportation funding a priority last year and after much political wrangling, the General Assembly passed and Corbett signed a $2.3 billion transportation package.
The Constructors Association of Western PA PAC wrote a $50,000 check, Transportation Construction Industries PAC wrote one for $15,000 and Murray Energy PAC contributed $40,000.
Corbett scored a lot of contributions from organizations, mostly pro-business, but also had a few wealthy friends, in addition to Middleton, that helped him reach the $1.4 mil mark. Raymond Hoover, Edward Stack, Robert Asher and Brian Rich each contributed $25,000.
$78,688.04 of his total raised came from donations of less than $250.
Expenses
If you've ever wanted to solve the mystery of how to spent $3 million in three months, look no further than the expenditures section of Corbett's finance report. He spent $2,997,246.72 between January 1 and March 31 and doesn't have a serious primary opponent (Bob Guzzardi remains in ballot-limbo, and raised a mere $4,500 during this period).
A couple thousand went to Quantum Communications for consulting, another couple thousand to each KC Consulting and The Tarrance Group for research and about $270,000 to the PA GOP for staff and other expenses.
The major expenditures were media consulting from Brabender Cox and voter outreach from Behavior Matrix.
Behavior was paid about $375,000 for their voter outreach services.
Brabender took in $282,000 for production costs, website management and professional services. They also did the media placement for Corbett's television ads, which cost the campaign about $1.4 million.