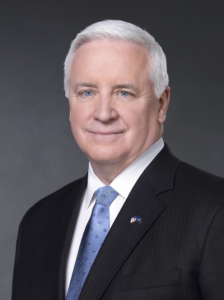 Pennsylvania's unemployment rate fell to 6.2% in February and Governor Tom Corbett's campaign instituted a nearly unparalleled media blitz.
We've seen statements from GOP Chairman Rob Gleason, Corbett's campaign, the National Federation for Independent Businesses, NJ Governor Chris Christie on behalf of the Republican Governor's Association, the PA Chamber of Business, The PA Manufacturer's Association, Senator Pat Toomey and Congressman Glenn Thompson.
Here's what they had to say about the latest jobs numbers.
"Governor Tom Corbett's commonsense economic policies are creating jobs," Gleason said. "Governor Corbett is putting Pennsylvanians back to work. Pennsylvania's unemployment rate has now dropped to 6.2%, significantly lower than the national average. Today's announcement is fantastic news for Pennsylvanians, and a further sign that Governor Corbett has put Pennsylvania on the right track."
"Today's jobs report is an encouraging sign for Pennsylvania," stated Corbett. "It's simple – as we continue fighting in Harrisburg for less taxes, we are seeing more jobs. As Governor, I will keep fighting to make good on our promises that have put Pennsylvania on the path to a brighter future by reforming Harrisburg, keeping taxes low and creating more than 150,000 private sector jobs. The people didn't send me to Harrisburg to make friends, they sent me there to make a difference, and that is what I will continue to do."
"Pennsylvania has come a long way since Governor Tom Corbett took office as our recovery and economic growth continues to take hold," said Kevin Shivers, Executive State Director for the Pennsylvania NFIB. "Governor Corbett has cut taxes and made government more responsible to create new opportunities for our members to grow and hire. While the federal government's overreaching healthcare mandates and relentless red tape continue to deliver setbacks, Tom Corbett is making Pennsylvania's economy stronger and more accountable to job creators."
"The vast improvements in workforce participation included in this new report is good news for each and every Pennsylvanian, and moreover, a testament to the strength of the pro-jobs, pro-growth policies Governor Tom Corbett has instituted in the Keystone State," Christie said. "With Governor Corbett at the helm, Pennsylvania's unemployment rate has dropped to 6.2% and fallen below the national rate, a sure sign the state is on the right track. Republican governors across the country are following through on their promises to revive state economies just as Governor Corbett has, and his leadership on this front will no doubt drive continued forward progress in Pennsylvania."
"Today's jobs announcement continues to spell good news for Pennsylvania's future thanks to Governor Tom Corbett," said Pennsylvania Chamber of Business and Industry President and CEO Gene Barr. "Unemployment continues to drop and Pennsylvanians are returning to work as the private sector continues to make progress in recovering from our too long national economic downturn. Governor Corbett has kept his promises to reopen Pennsylvania for business and we look forward to seeing our economy continue to grow under his leadership for four more years."
"Pennsylvania unemployment dropped to a new post-recession low today because of the work Governor Tom Corbett has done to right the fiscal ship and grow our economy," stated David N. Taylor, Executive Director of the Pennsylvania Manufacturers' Association.  "As our energy sector grows, manufacturing is being revived, along with thousands of new opportunities in the private sector for Pennsylvania families.  Governor Corbett's leadership has helped our state make great economic strides in just three short years."
"It's great to see more Pennsylvanians getting back to work, and our state unemployment rate dropping," stated Toomey.  "While federal policies like Obamacare are holding back the economic recovery, Governor Corbett's determination to keep state taxes in check is having very positive effects."
"Today's job report shows that Pennsylvania's economy continues to improve under Governor Tom Corbett's leadership," stated Thompson. "With Pennsylvania's unemployment rate below the national average once again, the President should look to our state for solutions that are growing jobs and helping our economy to rebound through a strong private sector."
"Today's jobs update shows more encouraging signs for Pennsylvania's continued path towards a brighter future under Governor Tom Corbett," said State Representative John Taylor (PA-177) and Chairman of the Philadelphia Republican City Committee.  "Since Governor Corbett took office I have been proud to work with him in Harrisburg to reduce taxes and burdens on the private sector so we can put more hardworking Pennsylvanians back to work. Governor Corbett's energy and pro-jobs agenda stepped in to save the Philadelphia-area refineries, and have created new opportunities to make our shipyards the busiest in decades. Pennsylvania is on the right track and it couldn't have been done without Governor Corbett's leadership."
The rate is the lowest since the fall of 2008, and certainly doesn't hurt Corbett's reelection hopes but the PA Democrats want to hit him on some slightly different numbers.
"When Tom Corbett took office, we we're 7th in the nation in job creation and now we're 48th. Nearly 40 percent of Pennsylvania's unemployed are long-term unemployed, meaning they've been out of a job for over 27 weeks. 44 out of the 67 of Pennsylvania counties have unemployment rates higher than the national average and 20,000 educators have lost their jobs in the past three years," PA Dems spokeswoman Beth Melena. "Tom Corbett's policies have been holding the Commonwealth back from reaching it's full potential. Corbett has consistently made misleading claims about his job creation record rather than taking constructive steps towards improving the economy."