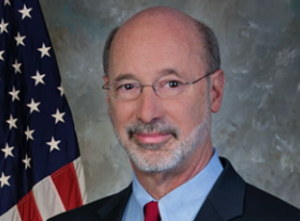 Much has happened over the last few months.
Nevertheless, Governor Tom Wolf's approval and favorability ratings remain just about unchanged.
The latest Franklin & Marshall Poll asked respondents whether they approved of the job the Governor is doing and the results were strikingly similar to the ones they found last March.
Eight percent believe Wolf is doing an "excellent", 31% say he's done a "good job", 34% rated him as doing "only a fair job" while sixteen percent answered that Gov. Wolf has done "a poor job".
When broken down by demographic, Wolf's good/excellent rating outpaced his fair/poor rating among the following groups: Democrats (56/31); Extremely liberal (80/12); Slightly liberal (49/34); College graduates (45/43); Nonwhites (52/40); Religiously unaffiliated (47/41); Non-gun owners (46/41); Philadelphia (44/39) and Allegheny (55/40) residents.
Historically, Wolf seems to find himself in a situation where his numbers aren't as high as the Governor he served (Ed Rendell) or the first Governor F&M kept records on (Tom Ridge) but he is still doing better than his predecessor (Tom Corbett).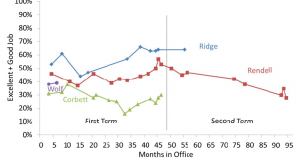 In terms of favorability, Gov. Wolf actually improved from a favorable/unfavorable 40/27 split in March to a 44/27 this month.
Finally, just 36% of Pennsylvanians feel the state is headed in the right direction compared to 47% who believe the commonwealth is on the wrong track. While a drop from his previous numbers, these are still better than any of Gov. Corbett's performances on this question after January 2012.
This poll surveyed 556 registered voters in Pennsylvania and was conducted from June 8th to June 14th. The margin of error is +/- 4.1%.