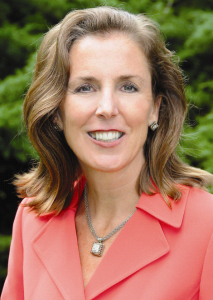 Democratic candidate for governor Katie McGinty has put together a proposal that would spur investment and revitalization in communities throughout the state.
By focusing on local development projects — specifically environmentally-friendly ones, including the purchase of abandoned property and infrastructure for redevelopment — McGinty's proposal is a comprehensive plan that could effectively help all cities and towns throughout the Commonwealth move forward economically.
"Too many boroughs, towns, and neighborhoods throughout the Commonwealth have too many abandoned buildings, distressed downtowns, and too few parks and green spaces for families to enjoy," McGinty said. "Under a McGinty Administration, we are going to invest in communities to make them more livable and attractive for residents and businesses."
To usher in this type of investment and change, the proposal starts by promising $300 million in state funding that would go directly to municipal land banks. With the extra funding, these banks would "buy and redevelop abandoned and blighted properties," thus utilizing infrastructure already available to help better communities throughout the state.
"We will reclaim brownfields and grayfields before we develop greenfields. We will invest in rehabilitating existing buildings and downtown areas," McGinty said. "We will improve existing roads and bridges and fix antiquated infrastructure before building expensive and redundant new projects."
In addition, where municipal land banks are unavailable, $125 million would go to help establish these banks in areas that are in need of economic revitalization. Although all communities involved would be required to match a third of the amount of money given by the state, all profits from revitalization efforts would be retained by the area to boost further investment.
Next, McGinty's proposal includes up to $165 million in bond proceeds that would go towards creating greenways, parks and bike trails, as well as improving streetscapes and recapturing waterfront areas.
The proposal also focuses on attracting private investment in an effort to expand community redevelopment projects already in place, including CRIZ and Act 47 efforts. McGinty's administration would support these efforts by creating a public-private relationship that would yield $3 in private investment for every $1 in state aid.
Finally, another key component of McGinty's proposal is the reform and retooling of community pension systems with the help of the state.
To start, money would be allocated to encourage stressed pension plans to be reinvested through the Pennsylvania Municipal Retirement System, which, according to McGinty, offers "a higher return on investments than most local governments are earning, and at a reduced cost."
Furthermore, an added surcharge would be attached to the Foreign Fire and Casualty Premium Tax. The extra revenue garnered from the surcharge would be used to encourage communities to consolidate existing pension plans that are under-performing. Her administration would also work to create a uniform pension model that could be followed throughout the Commonwealth.
"Previous administrations realized that vital cities and towns were essential to the economic strength of the Commonwealth. Yet, Tom Corbett has abandoned our communities. We will put policies in place to invest in growth, development, and quality of life, leaving no community behind," said McGinty.
Much of McGinty's plan at reinvestment in available infrastructure harkens back to an episode of "Katie Direct" that focused on the candidate's role in revitalizing the Bakery Square section of Pittsburgh and making it the new home of Google in the city.
And as she said in that video: "Let's focus on the environment. When we do that, we will grow jobs and grow our economy."