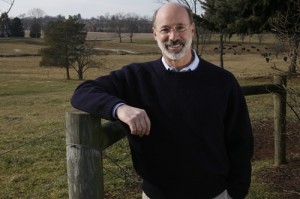 Another day, another gubernatorial poll showing Tom Wolf with a substantial lead.
The Mercyhurst Center for Applied Politics found that if the election were held today, 43% of respondents would support Wolf, and 28% would support Corbett.
With a little more than a month to go until Election Day, 22% still remained undecided. The number of voters who are still undecided in the Mercyhurst poll is on the higher end of what most polls have found.
Meanwhile, the 15 point margin for Wolf over Corbett is a tad bit lower than the 20 point margin found in the F&M poll that was released yesterday.
As has been the theme for much of the year, approval of the job Tom Corbett is doing as Governor of Pennsylvania is also low. A mere 31% of those surveyed approve of the job Corbett is doing, compared to the 51% who disapprove. 17% said they did not know.
The Mercyhurst Poll was conducted from September 15-24, 2014, and included 479 registered voters in Pennsylvania. The margin of error is +/- 4.48%.