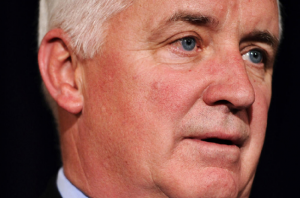 Joining a coterie of other news organizations, NBC First Reads put Governor Tom Corbett at the top of their list of vulnerable governors in 2014.
Here's what they have to say:
1. Pennsylvania (R): The most vulnerable governor in the country is Gov. Tom Corbett. The only question is whom Democrats nominate on May 20 to challenge him. And right now, the front-runner in that Democratic contest is businessman Tom Wolf – probably the best possible nominee the Democrats could come up with; somewhat of a technocrat.
Just a few weeks ago, he received the same distinction from The Washington Post's The Fix.
1. Pennsylvania (R): The Democratic primary has become very interesting very quickly. Rep. Allyson Schwartz (D) is doubling down on her Obamacare vote in a way you won't see in most other races. She still has ground to make up to catch businessman Tom Wolf (D), but close observers say it's still possible. None of this changes the fact that Gov. Tom Corbett (R) remains the most vulnerable governor in the country. (Previous ranking: 1)
While it's undeniably bad news for Governor Corbett, his primary challenger, Bob Guzzardi was removed from the ballot and the governor has had a fairly painless primary season. His Democratic opponents, on the other hand, have been devouring each other in negative advertising, the efficacy of which remains to be seen, but while they are focusing on hurting each other, Corbett remains unscathed.