Gubernatorial candidate Allyson Schwartz led "The Last Word" on MSNBC on Monday night to promote her latest ad, a pro-ACA spot.
"I worked with President Obama on the Affordable Care Act and getting health care coverage to all Americans. It was my legislation that said insurance companies can no longer deny coverage to kids with pre-existing conditions," Schwartz narrates in the ad.
"Tom Corbett has decided not to take the Medicaid money, as governor, I will take the Medicaid expansion because 500,000 Pennsylvanians need health coverage," she continues. "That's exactly the kind of leadership I will bring as your next Governor."
Throughout the spot, the Congresswoman highlights her connection with the President, including showing signed photographs of the two of them together and footage of Rep. Schwartz and President Obama descending the stairs of Air Force One.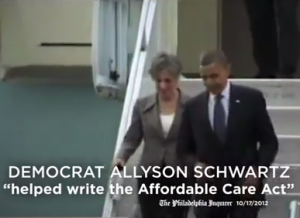 The ad will begin running in Pennsylvania on Tuesday morning.
Ari Melber filled in for Lawrence O'Donnell on the show and interviewed Schwartz after the preview of the ad.
"It's simply wrong to have a governor who's refusing to use this tool to give Pennsylvania the health care that they need," Schwartz said in the interview.
59% of Pennsylvanians support Medicaid expansion according to Public Policy Polling on a map shown during the spot.
Schwartz shared anecdotes of ACA success stories, including a woman she met on the campaign trail named Christine who was just diagnosed with breast cancer but can no longer lose her coverage thanks to the law.
At the end of the interview, Melber also asked if Schwartz would welcome the President to campaign for her. Schwartz answered that she would love to have the President appear with her, both before the primary and ahead of the general election.
The candidate's embrace of the President is a calculated risk as she trails former Revenue Secretary Tom Wolf with a month to go. President Obama's approval in the commonwealth has been dropping steadily the last few months yet he's still popular with Democrats.
Also in the primary, she faces State Treasurer Rob McCord and former DEP Secretary Katie McGinty.
After the major unveiling of the ad, Corbett reelection campaign manager Mike Barley released the following statement.
"Despite cancelled policies, skyrocketing premiums, lost doctors and jobs, Congresswoman Allyson Schwartz has turned her back on Pennsylvania for good," said Barley. "Congresswoman Schwartz has embraced an extreme liberal agenda in Washington, DC and the disastrous healthcare takeover she helped to write and force upon hardworking Pennsylvanians. Now Congresswoman Schwartz hopes to bring those failed budget-busting Obama policies to Harrisburg, proving just how out of touch she is with the people of Pennsylvania."