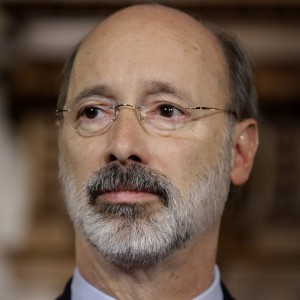 Governor-elect Tom Wolf is already responding to the latest Independent Fiscal Office (IFO) report.
The IFO gave their annual presentation of the five-year economic and budget outlook today, prompting the Wolf transition team to issue a response to the report.
The full statement is as follows:
"The budget deficit projection released today by the Independent Fiscal Office is bad news for Pennsylvania, but the depth of the financial hole being left by the Corbett Administration is still not known."
"Today's report showing a multi-billion dollar budget deficit is a stark reminder of the dire fiscal situation my administration will face. As bad as today's news is, what lies ahead could be worse. It is critical that we understand the full extent of this budget crisis so that we can address our challenges in a responsible manner."
"Leaders from both parties need to work together to achieve meaningful solutions for the people of Pennsylvania. We have to move Pennsylvania forward and make difficult decisions in order to solve our state's financial crisis."
The primary political objective of the Wolf team's response is to temper expectations and lay the proper groundwork for the new Governor's first year. In short, they want to convey to the commonwealth that this is all Gov. Corbett's fault and the new administration will need time and leniency to set things straight.
Of course, it's one thing to ask and quite another to receive.