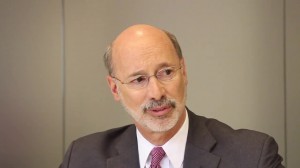 Believing he is inheriting a debt of $2 billion, incoming Governor Tom Wolf presented a frank but hopeful financial picture of the commonwealth.
In a game of political fingerpointing, Wolf blames the states budgetary deficit on the Corbett Administration's reliance on non-recurring revenues. Tom Corbett and Co. used the same excuse when he entered office four years ago, implicating former Governor Ed Rendell.
"We have a structural deficit and that it's a big one," Wolf said. "We need to think about solutions on the spending side. We need to think about solutions on the revenue side.Just hoping for growth doesn't seem to be enough."
Wolf remained committed to his campaign promises of increasing education funding, while also levying taxes against Marcellus Shale extractors.
Remaining hopeful for his upcoming term, Wolf discussed an openness to innovative solutions to budgetary problems.
"If we recognize there's a problem, we could do some things that could be really actually very exciting" the Governor-Elect asserted.