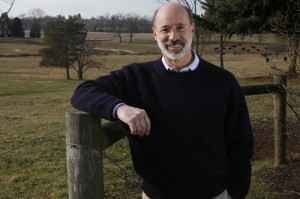 Even more pieces are falling into place.
Governor-Elect Tom Wolf announced his choices for three more cabinet departments today: Randy Albright for the Office of the Budget; Russell Redding for the Department of Agriculture; and Robin Wiessmann for the Department of Banking and Securities.
"Pennsylvania has an estimated budget deficit of at least $2 billion and an economy that ranks last in job growth," said Governor-elect Tom Wolf. "Randy Albright is a proven budget and policy expert. He provided the analysis that enabled us to understand months ago what has now become painfully evident: we are in a perilous fiscal situation, and budgets crafted over the last several years were irresponsible at best. We need Randy's unparalleled insight as we try to right our fiscal ship."
"Russell Redding is well-respected by the agriculture community, and he has proven his abilities to grow Pennsylvania's agriculture sector and make it an economic engine for our state economy," Wolf continued. "In addition, Robin Wiessmann will bring years of public and private experience and financial expertise to the Department of Banking and Securities. Pennsylvania is facing difficult challenges ahead, and I am confident that I have chosen a group of highly qualified individuals who posses the much-needed experience to help me move our commonwealth forward."
The Wolf transition team provided some biographical information on Albright, Redding and Wiessmann:
Randy Albright – secretary, Office of the Budget. Randy Albright has nearly three decades of experience in Pennsylvania state government, and he brings a detailed knowledge of the state budget and finances. Albright has drafted numerous pieces of job creation legislation, including the Machinery and Equipment Loan Fund. He has also played a key role in developing cost-savings and passing revenue generating policies over four administrations.
Randy Albright is currently the executive director of the Senate Democratic Appropriations Committee, serving in that role since 2009. From 1986 to 2008, Albright was a budget analyst, then senior analyst, for the Senate Democratic Appropriations Committee, where his responsibilities included budget and policy analysis for the Departments of Community and Economic Development, Education, Labor and Industry, Corrections, and Transportation. Albright has a bachelor's degree and a master's degree in public administration from Pennsylvania State University. He lives in East Pennsboro with his wife, Kim. His daughter, Megan, is currently completing her third year of law school at Temple University.
Russell Redding – secretary, Department of Agriculture. Russell Redding previously served as secretary of the Department of Agriculture from 2009 to 2011, where he helped establish a comprehensive economic development program that provided state funds that leveraged private capital to help agriculture expand, grow, and create jobs. Redding was also instrumental in preserving nearly 3,000 farms.
Russell C. Redding has served as the dean of the School of Agriculture and Environmental Sciences at Delaware Valley College (DelVal) since 2011. In his role, he provided academic oversight for programs including plant science environmental science, landscape architecture, dairy science, animal science, equine science, agribusiness and food science. Prior to joining DelVal, Redding served as Pennsylvania's secretary of agriculture from 2009 to 2011, where he led the Pennsylvania Department of Agriculture in all aspects of program implementation, administration, policy development, advocacy, and federal farm policy development. Redding spent a total of 16 years at the Department of Agriculture. Previously, Redding served as agricultural policy advisor and executive assistant to U.S. Senator Harris Wofford. Redding currently serves as Chair of the USDA Advisory Committee on Biotechnology and 21st Century Agriculture. He has a B.S. in agriculture education and a M.S. in agriculture and extension education from Penn State University. Redding resides in Adams County with his wife, Nina, and sons, Garrison and Elliot.
Robin Wiessmann – secretary, Department of Banking and Securities. Robin Wiessmann previously served as the Pennsylvania state treasurer from 2007 to 2009, where she was the primary fiduciary and custodian of $120 billion and created a new strategic framework for the office. As a public finance professional, Wiessmann has worked throughout her career to fund projects related to infrastructure, schools, and hospitals, as well as serving in banking and regulatory positions. She has worked extensively on financing plans, credit analysis, securities, and regulatory practices.
Robin Wiessmann served as Pennsylvania State Treasurer from 2007 to 2009. During her tenure, she served as the primary fiduciary and custodian of $120 billion and created a new strategic framework for the office. From 1990 to 1999, Wiessmann was a founder and president of Artemis Capital Group, the first female-owned investment banking firm on Wall Street. Prior to founding Artemis, Wiessmann was a vice president at Goldman Sachs and a deputy managing director for the City of Philadelphia. Most recently, she has served on the Municipal Securities Rulemaking Board (MSRB). She graduated cum laude from Lafayette College and received her law degree from Rutgers University.