PA-Gov: Wolf Vetoes PEMA Bill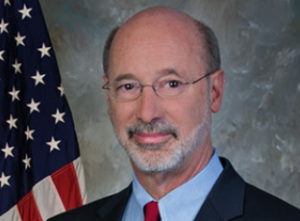 Governor Tom Wolf vetoed a piece of legislation today.
Senate Bill 490, which was introduced by Sen. Lisa Baker, was the bill in question. It passed the State Senate by a 32-17 margin and State House by a vote of 117-82.
Wolf released a statement saying that his veto related to proposed changes to the Governor's ability to appoint the head of the Pennsylvania Emergency Management Agency.
"Senate Bill 490 unnecessarily encroaches upon this longstanding gubernatorial authority without providing a sound basis for doing so, which could disrupt PEMA's ability and responsibility to ensure public safety in emergencies," Governor Wolf said in a message to Senators. "Given PEMA's unique mission concerning preparing for and responding to disasters, it is imperative that its leader's path to directing emergency management operations not be unduly obstructed following his or her appointment. Any impediment or disruption could have a detrimental impact on public safety and the welfare of the commonwealth and its citizens during an unforeseen crisis."
Gov. Wolf did sign House Bill 735 and Senate Bill 130 into law.