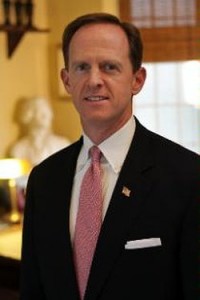 Senator Pat Toomey is back on top.
At least that's according to Emerson College, which has him with a 46% to 39% lead over Democratic nominee Katie McGinty.
More specifically they found Toomey at 45.5% and McGinty at 39.4%, so the margin is really six points instead of seven. 10% were undecided and 5% wanted someone else.
When it comes to favorable ratings both candidates were underwater but the incumbent's showing was better. 34.8% have a favorable view of the Senator while 37.6% have an unfavorable view. 24% are undecided.
McGinty, meanwhile, recorded a 27.8% favorable rating against a 39% unfavorable score. 24.8% are undecided about the Democratic challenger.
The Emerson College Polling Society conducted this survey with 800 likely voters from August 25th to 28th. The data was collected using an IVR (Interactive Voice Response) system that only includes landlines. The data was also weighted by the 2012 results. The margin of error is +/- 3.4%.
Many polling experts are wary of IVR surveys, as best epitomized by the New York Times' Nate Cohn:
If you're writing up polls that don't have any means to contact vtrs without a landline, you're wasting everyone's time–most of all, yours

— Nate Cohn (@Nate_Cohn) August 29, 2016