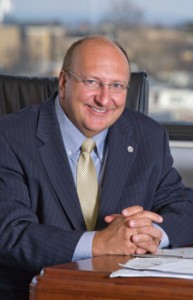 Allentown Mayor Ed Pawlowski got the support of the Lehigh Valley Building Trades (LVBT) in his bid for Governor.
The trades council represents 20 local construction unions in the region.
In a press release sent out by his campaign on Wednesday, Pawlowski and Jim Reilly, President of the LVBT, spoke of their mutual respect that stems from working together to revitalize Allentown.
"Mayor Pawlowski has done a remarkable job of transforming Allentown," said Reilly. "He has created thousands of jobs for our members, and there is no better supporter of working families than Ed Pawlowski, and I've known him for quite a long time. Mayor Pawlowski is the only candidate who has created jobs, and he is the only candidate for Governor who can bring jobs back to Pennsylvania."
"[The LVBT] are a major part of the renaissance we are experiencing in Allentown, building us a state-of-the-art arena and hotel complex, as well as the surrounding office buildings," said Pawlowski. "They are giving us their best work, and nothing makes me happier than to see their members working and supporting their families when I pass by there every day. These are the type of jobs that Governor Corbett has failed to bring to our State, and why the middle class is disappearing in Pennsylvania."
Like Pawlowski's last two union endorsements, this one comes from his very own backyard. He also has the support of the Iron Workers Local 420 of eastern and central Pennsylvania, and IBEW Local 375.