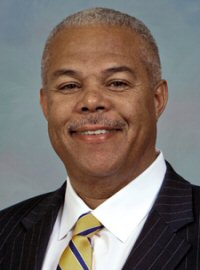 Anthony Williams received the backing of The Philadelphia Tribune this weekend.
The Tribune based their endorsement on Williams' experience in Harrisburg, asserting that he has the skills to be Philadelphia's next leader.
The paper also lamented the growing divide in the City of Brotherly Love, calling Philadelphia "a tale of two cities."
"Center City and recently gentrified neighborhoods are thriving and growing, with new luxury apartments and trendy restaurants," they wrote. "Sometimes just blocks away are struggling neighborhoods with dilapidated houses, vacant lots and shuttered storefronts."
Currently, the city has 1.5 million people living in poverty with 26.3% of inhabitants below the poverty line.
"Will Philadelphia become a city with only the rich and the very poor, with no viable working or middle class?" The Tribune wondered aloud.
The periodical also notes that there are "too many poorly funded, poorly performing schools" in Philadelphia, while first-class universities – such as the University of Pennsylvania, Drexel and Temple – operate within the city limits.
The paper decides to back Williams because they believe he will bring together the "various sections and demographic groups into one cohesive city."
John Dougherty's support of Kenney was also a significant cause for concern.
"Voters, especially African American voters, should be concerned about Dougherty's growing influence [in the race]," the editorial states. "The virtual absence of Blacks and other minorities among Philadelphia's trade unions has been a longstanding problem."
Finally, they cite a number of Williams' accomplishments and pledges to sum up their case. The cigarette tax, the State Senator's opposition to stop and frisk and his recent call for a new Police Commissioner all make him "the better choice" for the next Mayor of Philadelphia.