Longshot Pittsburgh mayoral candidate and State Rep. Jake Wheatley is on the air – kind of.
In the positive web-only video ad, "Fairness", Wheatley touts his service as a Marine during Operation Desert Storm, during which he "learned quickly that greatness meant putting others ahead of yourself."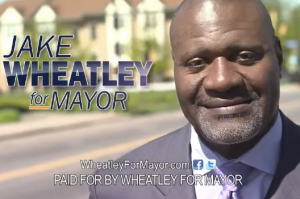 Wheatley continues, saying, "Now, for Pittsburgh to be great, we have to end politics as usual and move our city toward innovative ideas that will unite us and bring about economic fairness."
"When I'm no longer mayor, we'll be able to look back and say Pittsburgh is prospering because we made sure all Pittsburghers were prosperous," Wheatley says at the end of the ad. "Are you ready to join us?"
The campaign is "optimizing [its] reach and spending [its] resources wisely," according to Wheatley spokesman Daren Barringer. "Long gone are the days where voters wait for campaigns to run an ad through traditional mediums. By applying attitudinal criteria, voters will be able to see and hear Jake Wheatley's message for creating a Pittsburgh that is fair for everyone when it best suits them."
He's only raised $62,000 so far during the campaign (including $10K from outgoing Mayor Luke Ravenstahl). That's 1/16th of City Councilman Bill Peduto's haul and 1/20th former Auditor General Jack Wagner's – and in any case not enough to make a serious impact on television.
Wheatley is a longshot for the Mayor's office according to the latest Keystone Analytics poll, in which 8% of respondents supported him, compared to 39% for Peduto and 32% for Wagner.