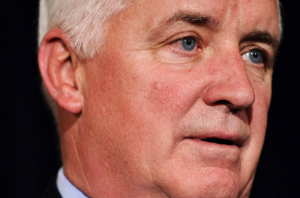 More than half of Pennsylvania voters believe Governor Tom Corbett does not deserve to be re-elected, according to the latest poll from Quinnipiac.
55% to 34%, respondents say Corbett's shouldn't get a second term, including 79% of Democrats, 55% of Independents and even 30% of Republicans. The 21 point gap is the worst yet for Corbett according the pollster.
By an 18 point margin, 52% to 36%, respondents disapprove Corbett's job performance. They have an unfavorable opinion of Corbett himself by 8 points, 46% to 38%. The Governor trailed all 6 potential Democratic opponents tested against him.
The trifecta of negative numbers comes 8 months before the November 4 general election. Independent voters and respondents from every age category broke against Corbett in all three questions.
Jobs and the economy took top billing as the issue voters think should be the focus for elected officials, followed by education.
The pollster tested Corbett's handling of various issues and found no topic where the Governor had positive marks.
On education: disapprove 61% to 30%.
On government spending: disapprove 60% to 29%.
On jobs and the economy: disapprove 58% to 31%.
On taxes: disapprove 56% to 32%.
On health care: disapprove 51% to 29%.
On energy and the environment: disapprove 49% to 36%.
On abortion: disapprove 32% to 24%.
On transportation: disapprove 41% to 37%.
35% said Corbett is too conservative, 13% said he is too liberal, and 38% said he is ideologically just right.
The silver lining: 49% to 41% respondents say Corbett has strong leadership qualities. They are split 43% to 43% on whether Corbett is honest and trustworthy. By 19 points, 55% to 36%, respondents say Corbett does not care "about the needs and problems of people like you".
Corbett's numbers reflect a general attitude about the state of the state as well as lawmakers in Harrisburg.
The state legislature is in similarly negative territory. Voters disapprove their job performance 54% to 30%.
41% said they are somewhat satisfied about the direction of the state, versus 56% who are somewhat or very dissatisfied. While 30% said they would describe the Pa. economy as good, 49% said not so good and 19% said poor.
43% said they were worse off financially from a year ago, 32% said better off and 24% said the same.
Minimum wage
One of the Democratic party's biggest 2014 issues nationally, raising the minimum wage has significant support in Pa.
70% of respondents said they support such an increase. Of those, 54% support the $10.10 wage favored by President Barack Obama, 24% say it should be less than $10.10 and 21% say it should be more.
From February 19 – 24, Quinnipiac University surveyed 1,405 registered Pa. voters via live interviews on land lines and cell phones from Feb. 19 to 24. The margin of error is plus or minus 2.6%.