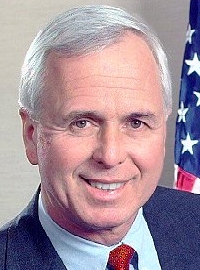 State Senator Stewart Greenleaf (R-Montgomery) is reportedly planning to retire instead of running for re-election next year.  
According to City & State, Republicans in Harrisburg and southeast Pennsylvania have said that Greenleaf is not planning to stand for re-election.  
"Some indicated that behind closed doors, he was positioning his son, Stewart Greenleaf, Jr., a former Montgomery County controller, as a potential successor," City & State wrote.  
Greenleaf, Jr. stepped down from his role as controller in 2015, but has not ruled out a run for the office.  
State Representative Todd Stephens (R-Montgomery) is also rumored to be considering a run.  
"I love representing my community in Harrisburg, and I certainly would consider an opportunity to represent a broader swath of Montgomery County if the senator chose not to stand for reelection," Stephens told City & State.  
Rumors of Greenleaf's retirement have swirled ahead of his re-election for his last couple of terms.