This organization's goals for 2020 include flipping both the state House and Senate to Democratic majorities and will be boosting dozens of "strong progressive women" in this effort. 
Represent PA, which describes itself as the "only organization in Pennsylvania focused on investing in pro-choice Democratic women candidates across the entire commonwealth for both the PA House and Senate," announced that they have officially endorsed 36 candidates for the state House and 7 candidates for the state Senate and have invested over $250,000 across the state this cycle thus far that include upcoming races and multiple special elections in 2019. 
"Being able to invest more than $250,000 this cycle, compared to $50,000 at this point in the cycle in 2018, means so much to these candidates who've not only been working to get their names out there, but have been doing it in ways that take more money because of the COVID-19 pandemic," said Represent PA Executive Director Christine Jacobs in a release.
The organization says that they only support women candidates who have a "path to victory," must align with the group's "progressive values," have "experience, campaign strength," while also looking at district "flip-ability." They also tout their work with other organizations that back women candidates including Emily's List, Emerge PA, and Turn PA Blue. 
"Protecting our democratic women incumbents and electing more democratic women to the House and Senate is our mission," said Represent PA Political Chair Meg Pritchard, who develops and leads the endorsement process. "As I read the applications of these very capable candidates, I'm thrilled to think that these women will soon be setting the agenda and passing legislation in Harrisburg."
A release from the group adds that they "essentially" operate as a "mutual fund for elections – raising money, analyzing races and candidates – investing in districts where it can have the most impact."
While the organization is currently supporting over 40 women running for the state legislature, they specifically pinpointed 3 state Senate races and two state House races to PoliticsPA as "a few of our higher priority race targets," for the group. 
The state Senate candidates included in the higher priority category mentioned helping reelect state Sen. Pam Iovino (D-Allegheny) in the 37th District, and flipping the 31st state Senate District with Shanna Danielson and the 49th District with Julie Slomski. 
The two state House races that they view as "potential flips" in their higher priority races include boosting Nancy Guenst in her bid for the 152nd District and Cathy Spahr for the 160th District.
Although Represent PA touts the $250,000 plus invested thus far, a release stated that "at least" one more round of support is planned before November. 
The Pennsylvania House Republican Campaign Committee and the Pennsylvania Senate Republican Campaign Committee did not respond for comment. 
Below is the full list of elected officials and candidates that the group has endorsed for 2020. The full list of the endorsed candidates can also be found from their website here.
State Senate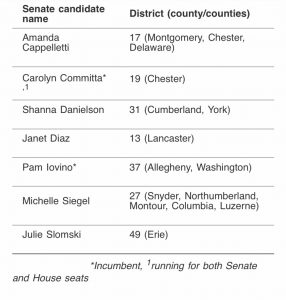 State House