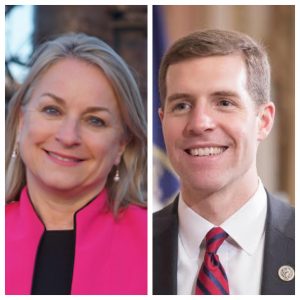 Two races. Two rating changes. Both in the Democrats' favor.
Today, Larry Sabato's Crystal Ball changed the ratings in Pennsylvania's newly drawn 7th and 17th Congressional District from Toss-Up to Leans Democratic. The races for the 17th district is the only Congressional race in the nation in which two incumbents are facing each other, Rep. Keith Rothfus (R-Allegheny) and Rep. Conor Lamb (D-Allegheny). The newly drawn 7th district seat, vacated by Rep. Charlie Dent (R-Lehigh), has former Democratic Allentown City Solicitor Susan Wild going up against former Olympic gold medalist Republican Marty Nothstein.   
Sabato writes that the newly drawn 17th district only voted for Trump by a couple of points, while Lamb's special election victory earlier this year against Republican state Rep. Rick Saccone was a much more GOP friendly seat.  A Monmouth poll released two weeks ago showed Lamb holding a double digit lead over Rothfus.
The 7th District voted narrowly for Clinton in 2016 over President Trump and Sabato credits Wild's strong fundraising over Nothstein as a factor in the move from Toss-Up to Leans-Democratic.   
Sabato's new report includes eight rating changes, all in the Democrats' favor.
Sabato also references Lamb's special election victory in March while detailing the results in Ohio's 12th Congressional Special Election race in which Republican Troy Balderson appears to have narrowly beaten Democrat Danny O'Connor in the GOP friendly district.
O'Connor, like Lamb, performed well in the GOP leaning district in the parts of the district closest to their respective big cities, Pittsburgh for Lamb and Columbus for O'Connor.