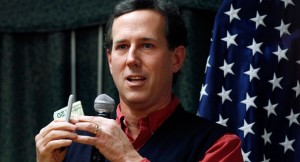 Although he's never been a fan of handouts, former Sen. Rick Santorum has been reaching out to his supporters for help in paying off his roughly $1 million debt from campaigning for the Republican Presidential Nomination.
He's asking people to donate $10.
Santorum, who suspended his campaign in April, will announce his future plans once the debt is paid, according to a Bloomberg report.
He has fared better than some other former candidates, though.
The Huffington Post reported that Newt Gingrich's campaign debt was at $4.3 million by the end of March, and only down to $3.8 million at the beginning of this month.
Former Utah Gov. Jon Huntsman is carrying $5.5 million in debt, but around $4 million of that is from loans he made himself to the campaign.
Michele Bachmann still owes a little over $1 million, but is focusing her time and fundraising energy on a reelection bid for her 6th district Minnesota seat. Her campaign reported that she has already raised $550,000 for the House race.
Texas Gov. Rick Perry was one of the better fundraisers in this election cycle, and the New York Times characterized his debt as "negligible." Perry has also suggested he might make another presidential run in 2016.
Like Perry, businessman Herman Cain has done OK. Cain continues to hold rallies and raise money, and he was less than $500,000 in the red as of last month.
Former Minnesota Gov. Tim Pawlenty, who dropped out of the race last August, has already paid off his debt.
Texas Rep. Ron Paul recently announced that, while he was not suspending or ending his campaign, he was not going to continue spending money to win delegates.
Reducing the national debt has been central to Paul's campaign, and staying in the black personally would be consistent with his political message. Paul has less than $3 million on hand.