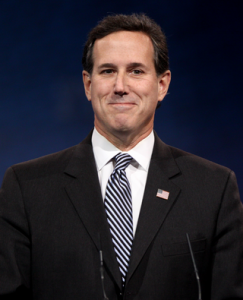 Former Senator Rick Santorum rallied his conservative supporters with an email on behalf of Governor Corbett.
Patriot Voices Political Action Committee was filed last year by Santorum to fight "for faith, family, freedom & opportunity in America." The email Tuesday asked supporters to contribute financially to Corbett's reelection campaign.
"My good friend, Pennsylvania Governor Tom Corbett, has been under attack from the liberals in the state, the liberals in Washington, and the liberals in the news media, from the very first day he took office," the email from Santorum reads. "Why? One very simple reason … he is living up to his promise to restore fiscal sanity in Pennsylvania using the conservative principles of lower taxes and less wasteful spending."
Patriot Voices PAC expands beyond Pennsylvania, which Santorum addressed as well.
"If you live outside of Pennsylvania you might ask yourself, "Why should I help?"The answer is simple. Some of the most important progress being made in America is by Republican Governors like Tom Corbett who are fighting every day to restore fiscal sanity in America," he wrote.  "By re-electing Governors like Tom Corbett in critical battleground states like Pennsylvania, we are setting the foundation for reclaiming the White House in 2016."
In addition to the relevance to the 2016 election, Patriot Voices PAC also targeted Rep. Allyson Schwartz (D-Montgomery), calling her Corbett's "likely opponent" and criticizing her record of voting with the Obama administration and supporting the Affordable Care Act.
The Schwartz campaign didn't seem threatened by Corbett's ally in Rick Santorum.
"If Tom Corbett was looking for support from a Tea Party Republican more unpopular than himself, he succeeded in enlisting Rick Santorum. Tom Corbett and Rick Santorum represent an out of touch agenda, far from Pennsylvania's mainstream, including comparing marriage equality to incest, denying the harmful effects of global warming and preventing women access to health care decisions," Schwartz campaign manager Corey Dukes said. "Tom Corbett and his right-wing allies continue to attack Allyson Schwartz because they know she is the best candidate to bring bold, new, effective leadership to the stale Harrisburg status quo."