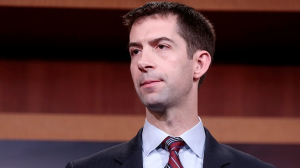 Senator Tom Cotton of Arkansas will be the keynote speaker at the 2016 PA GOP Fall Dinner.
"Tom's a rising star in our party," announced PA GOP Chair Rob Gleason. "Prior to his election to the U.S. Senate, Tom completed two tours of duty in the Iraq and Afghanistan with the 101st Airborne Division. During his military service he earned a Bronze Star, and completed U.S. Army Ranger School training."

"As a combat veteran, Senator Cotton will share how Trump-Pence and Pat Toomey will fight for our veterans, and keep us safe at home and abroad."
The dinner is set for Friday, September 23rd at the Sheraton Harrisburg Hershey Hotel.
Sen. Cotton was elected in 2014, and at 39 years old, Cotton is currently the youngest U.S. Senator.