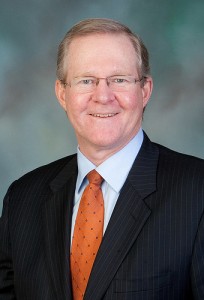 Speaker Sam Smith (R-Jefferson) confirmed last night's rumors with a statement today that he would not seek re-election to the 66th House District.
"While friends and supporters have been overwhelming in encouraging me to continue to run, the truth is, my heart is not in it, and my effort would be sub-par, and that would not be fair or good for any of us," he said today.
The news sent shockwaves through the House GOP on Monday night with members already preparing for the coming leadership battle – one that may set moderate eastern Pa. members against western Pa. conservatives.
Majority Leader Mike Turzai (R-Allegheny) is likely to seek the position. Appropriations Chairman Bill Adolph (R-Delaware), Majority Whip Stan Saylor (R-York) and House Republican Campaign Committee chairman Dave Reed (R-Indiana) were among the names mentioned in early speculation as potential replacements – or opponents – for Turzai.
Smith has represented the 66th district since 1987; this was his second term as Speaker and he currently serves on the Rules Committee. He was elected Majority Whip in 2000, and from 2003 to 2010 was the leader of the House GOP.
He would have faced a tough re-election bid this year particularly after shepherding the transportation spending bill through the House. His 2012 opponent, Cris Dush, lost to him that year by a few hundred votes in a three-way primary. This year's primary had been shaping up as a matchup between Smith and Dush only; the third candidate from 2012 has already backed Dush for 2014.
Below is his full statement:
"While friends and supporters have been overwhelming in encouraging me to continue to run, the truth is, my heart is not in it, and my effort would be sub-par, and that would not be fair or good for any of us. The job of state representative demands 100 percent attention to every constituent's view or problem, while trying to present a voice of reason at the statewide level of government. Upon some deep reflection, I no longer feel I can give the residents of the 66th the 100 percent commitment the job requires.

"And to me, that is important. The reason I first ran for office was to make sure our rural voice was heard in Harrisburg. Rural Pennsylvania sometimes gets lost in the shuffle, especially on issues that cut along geographic lines versus traditional Republican or Democratic political lines.

"To enhance our voice in the House, I worked to get elected to Leadership. Running for House Leadership, and ultimately as Speaker of the House, proved to be the right thing to do for the people of the 66th District, as well as rural Pennsylvania in general. Being able to run for the position of Speaker was only an option as long as the citizens of this area gave me the honor of being their voice in the House.

"As Majority Leader, we fought the Rendell Administration's near total focus on Philadelphia, and, even as Minority Leader, I was able to lead the House in efforts to protect our Second Amendment rights.

"It's not a job that is ever finished, however. From fighting the negative impact of the building code (which I opposed), to changing laws to enhance mine remediation and cleaning up streams, protecting the unborn and stopping child abusers, fighting for our fair share of education funding while balancing state budgets, the demand for attention and action continue.

"I always remained focused on the local needs for economic growth and helped fund numerous water and sewer projects and industrial parks in all regions of the district, including:

· Improved airport access in Jefferson County;
· Rebirth of the Indiana University of Pennsylvania campus in Punxsutawney; and
· Expanded water and sewer lines in small towns like Rossiter, Plumville and Glen Campbell.

"I want to personally thank the citizens of the 66th District for entrusting me with the honor and responsibility of representing them in the oldest elected body in America, the Pennsylvania House of Representatives. I am proud of my record of leadership and accomplishment on their behalf."