http://youtu.be/eiA7TVQN9Z8
I don't think there's a song that better sums up Arlen Specter. He made a career out of defying convention.
In 'Life Among the Cannibals,' Specter tells the story of his decades in politics, and the changes he blames for his defeat: namely, the cannibalism by strident partisans of centrists in Washington DC. It is co-written by Charles Robbins, his former Communications Director.
Specter was a leading character in Pennsylvania public life for decades, and the book is a must-read for Pa. political junkies. He recounts the stimulus, the birth of the Tea Party, and the 2010 primary, and tells where the bodies are buried.
For proof that the Senator still knows how to make news, peruse the political publications over the past few months. The book has produced a steady stream of headlines related to President Obama, Rick Santorum and more.
Full disclosure: I served on Specter's campaign as Director of New Media from March 2009 (before the switch) until the 2010 primary. I think he did our state and the country a lot of good.
Before you argue, consider this point that I honed during numerous debates with conservative and liberal friends and family: Specter scored billions in funding for medical research, more than any other elected official, to fight cancer, heart disease, autism and more. That's why he got a standing ovation at the National Institutes of Health any time he walked in the building. But I digress.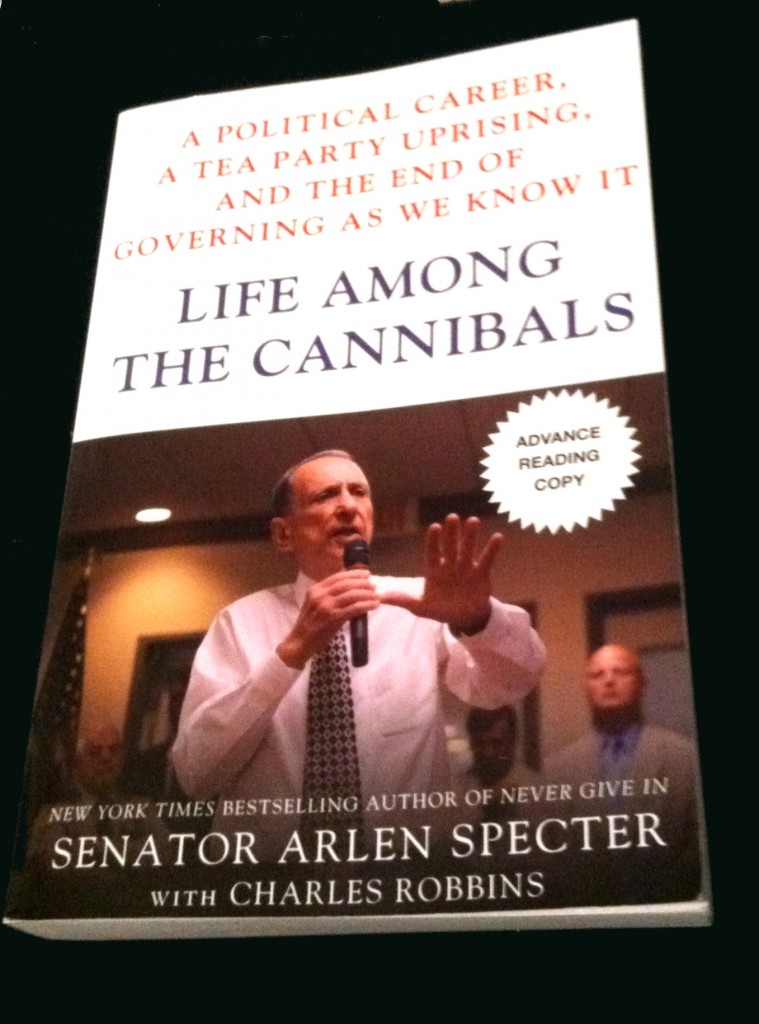 Specter traces the roots of the Tea Party movement, which he casts as symptomatic of partisanship in Washington, DC, from his 2004 primary with Pat Toomey to the town hall meetings of 2009.
In it, he mentions Santorum's "vital" support for his 2004 re-election effort, as well as Santorum's advice that he oppose the stimulus.
"Rumors are, Arlen's going to vote for the stimulus," Santorum told Specter's chief of staff Scott Hoeflich in February 2009. "If you do that, you're going to pull a primary challenge, and you're going to lose."
In early 2009, before the GOP's resurgence was a twinkle in anyone's eye, before the Tea Party had developed and before it was clear that he would have likely lost a primary anyway, Specter's approval ratings among Republicans were solid. The stimulus vote precipitated a rapid deflation in his numbers and got Toomey back in the Senate race. Sen. Jim DeMint (R-SC) and handful of other GOP Senators prepared to endorse Toomey.
Specter writes about the Switch (his party switch, and later Joe Sestak's ad of that title). Supporters, staffers and observers have all wondered at one point or another what would have happened if the Senator had switched to an Independent. He answers the question of why he didn't: the polling showed no path to victory. He quotes his son, Shanin:
My mantra was, "Look, here are your options – you can stay as a Republican, run, and lose badly; you can retire; you can run as an independent and you'll finish third; or you can switch parties."
Indeed, he writes he briefly considered retiring until his wife Joan talked him out of it.
From there, Specter walks through the halls of the Senate, to the iconic Tea Party forum in Lebanon, to the ins and outs of the 2010 primary race – his efforts to win over labor support and more.
He recants his earlier criticisms of the Tea Party as an inauthentic movement.
"I was wrong," he writes. "The Tea Party protesters were not Astroturf, a movement manufactured and orchestrated by professional activists, but grassroots."
The book has plenty of intrigue for Senate insiders, too – particularly his campaign to win the gavel of the Judiciary committee and Sen. Harry Reid's broken promise that Specter would retain his seniority as a Democrat.
He also delivers one big reveal. In 2005, when Republicans were inches away the nuclear option in order to confirm federal court nominees, the situation was defused at the least minute by the "Gang of 14" – before Specter had to vote.
Would he – then Republican Chair of the Judiciary Committee – have voted with the GOP against Democratic efforts to block nominees? Or would he have supported Democrats' right to filibuster?
The answer is on page 122.
Finally, Specter details exactly how the U.S. Senate could return to its former glory as, "the world's greatest deliberative body." Throw away the practice by Majority Leaders of both parties of blocking amendments. Require filibustering Senators to physically hold the floor, rather than compelling cloture votes based on threats. Make it public when a Senator places a hold on a nomination. Declare a ceasefire among Senators to agree not to campaign against one another – particularly within the same party.
'Life Among the Cannibals' is a thoughtful, personal, at times bitter, but consistently entertaining and superbly incisive read.
It's available Tuesday, March 27.