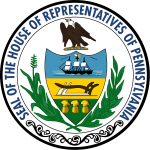 The state House is calling its members back to Harrisburg for a weekend session to begin moving budget related bills.  
Currently, there is no final agreement between the state Senate and House leaders about how to close the $800 million gap that needs to be filled.  
Steve Miskin, the House Republican spokesman, said that the House will start moving some budget related bills and see if they can make a final deal with Senate leaders.  
"Everybody's got to figure out how to finish this off. One way or the other, we got to find the right puzzle to put it together," state House Majority Leader Dave Reed (R-Indiana) told the Patriot News.  
The state Senate is not scheduled to return for session days until Monday.