Every Friday afternoon, we provide a preview of the various Sunday morning political talk shows that are filmed and broadcast throughout the commonwealth.
Our hope is to alert readers to the important interviews and insights that each show in their region offers.
@Issue
NBC10-Philadelphia-11:30 a.m.
Don't miss NBC10 @issue this Sunday morning with host Jacqueline London when we discuss cyber attacks and cyber privacy…Just how secure is your personal information? Plus, we'll take a look at diet trends in the new year. For example, can you lose weight by having dessert for breakfast? A local dietitian weighs in with her favorites and failures.
Face the State
CBS21-Harrisburg-11:30 a.m.
Secretary of Agriculture Russell Redding is our guest.
Inside Story
6abc-Philadelphia-11:30 a.m.
Host Matt O'Donnell and the Insiders discuss a brand new year and a changing local (and national) political landscape.  We start with Harrisburg where Governor Wolf battles an increasingly conservative legislature, all while a slew of potential republican candidates looks to challenge his reelection. Moving to New Jersey where there are close to 15 candidates vying for the governor's office, after Christie's ups and downs have been legendary. In Delaware, a new governor, a new Wilmington mayor and city council president taking on the homicide rate and a freshman Congresswoman Lisa Blount Rochester makes history as the first woman and African American elected to Congress in the state. This and much more – catch the Inside Story Sunday at 11:30 a.m.

Roundtable
Jim Eisenhower
Jan Ting
Ajay Raju
Dom Giordano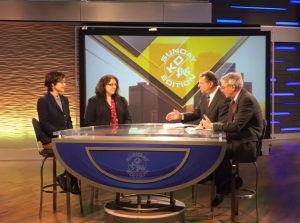 KD/PG Sunday Edition
CBS2-Pittsburgh-8:30 a.m.
This Sunday morning at 8:30 a.m., on KDKA-TV's "KD/PG Sunday Edition", with KDKA-TV News Anchor Stacy Smith and David Shribman, Executive Editor of the Pittsburgh Post-Gazette:

On this Sunday's program:

Members of Congress returned to work – this week – with the Republican majority vowing to repeal the Affordable Care Act (ACA), or "Obamacare".

But – what comes next?

We'll talk about the performance of the Affordable Care Act – and what happens – if the health care program is eliminated, or changed – with three guests:

Marian Jarlenski, Ph.D., MPH
Assistant Professor of Health Policy & Management
Graduate School of  Public Health
University of Pittsburgh

Melony Sorbero, Ph.D., MPH
Senior Policy Researcher, Pittsburgh Office, RAND Corporation
Co-Director, RAND-University of Pittsburgh Health Institute

Gerard Magill, Ph.D.
Vernon F. Gallagher Chair
Professor of Health Care Ethics
McAnulty College and Graduate School of Liberal Arts
Duquesne University

Please join Stacy Smith and David Shribman, for this important discussion – Sunday morning at 8:30 a.m. – on the "KD/PG Sunday Edition", on KDKA-TV.
Pennsylvania Newsmakers
WGAL Channel 8 (Harrisburg and Lancaster) Sunday, January 8th at 11:30 a.m.
WBPH (Lehigh Valley and Philadelphia) Monday, January 9th at 8:30 p.m.
WKBS 47 (Altoona) Saturday, January 14th at 9:30 a.m.
WPCB 40 (Pittsburgh) Saturday, January 14th at 9:30 a.m.
This week's Pennsylvania Newsmakers features Rick Gray, Mayor of Lancaster, and Kim Bracey, Mayor of York, who discuss the successes and challenges that face their respective cities. Then, joining host Terry Madonna are journalists Angela Couloumbis of the Philadelphia Inquirer, and Steve Esack of the Allentown Morning Call, for a conversation about the upcoming state legislative session. Link here.
The Sunday Business Page
CBS2-Pittsburgh-6:30 a.m.
This Sunday morning at 6:30 a.m., on KDKA-TV's "The Sunday Business Page", with KDKA-TV's Money & Politics Editor Jon Delano:

On this Sunday's broadcast:

The Pittsburgh Penguins are not only celebrating a Stanley Cup victory, this past year, but a new name, for their play facility. We'll talk with Terry Kalna – Senior Vice-President of Sales and Broadcasting, for the Pittsburgh Penguins – and Bryan Iams – Vice-President of Corporate and Government Affairs for PPG, about the renaming of the Penguins' home – from CONSOL Energy Center to PPG Paints Arena, and the promotion and growth potential for the facility, the team, and the company.

Then, a Pittsburgh-based, certified public accounting firm is marking its 60th anniversary —  this year – with a new name and branding. We'll talk with Paul K. Rudoy, CPA/ PFS – Managing Partner – and Kieran O'Day. CPA – Partner-in Charge of Business Development – about the transformation of Horovitz Rudoy & Roteman – to H2R CPA.

Finally, we'll preview the 50th anniversary of the Pittsburgh RV Show, at the David L. Lawrence Convention Center – from January 7th – 15th – with the show's producer, Rob Young – with details on some of the most popular and different models on display.

Please join Jon Delano – Sunday morning at 6:30 a.m. – for "The Sunday Business Page", on KDKA-TV!