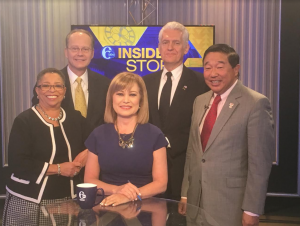 Every Friday afternoon, we provide a preview of the various Sunday morning political talk shows that are filmed and broadcast throughout the commonwealth.
Our hope is to alert readers to the important interviews and insights that each show in their region offers.
@Issue
NBC10-Philadelphia-11:30 a.m.
Host: Tracy Davidson

We have an exclusive TV interview with one of the first Juvenile lifers who was recently released from prison after spending 40 years in prison. We also have tips for Black Friday shopping.
Face the State
CBS21-Harrisburg-11:30 a.m.
This week we have a super-spirited conversation with State Senator Scott Wagner. RJ Harris fills in for Charlie Gerow and John Micek joins us in the Keystone Commentary.
Inside Story
6abc-Philadelphia-11:30 a.m.
Host Monica Malpass and the Insiders take a look at President-Elect Trump's new administration choices, how his presidency will impact Philadelphia as a 'Sanctuary City', and how thoughts on how Pennsylvania flipped red. Topics include how South Jersey-born Kellyanne Conway made history, and how Gov. Chris Christie is now on the outs with President-Elect.

Roundtable
Sharmain Matlock-Turner
Ed Turzanski
Jim Eisenhower
Jan Ting
Journalists Roundtable
PCN-Harrisburg-9:00 p.m. (Originally aired Thurs. 7:00 p.m.)
The Pennsylvania House and Senate held leadership elections this week with larger Republican majorities of 122-81 in the House and 34-16 in the Senate. Also discussed were the ramifications of the presidential election on Pennsylvania, the accomplishments of the past session, and what was left undone, including: public employee pensions, sexual offense statute of limitations, unemployment compensation legislation and changes to Pennsylvania's abortion law. These matters will await the 2017-18 General Assembly. Our guests this week are: John Micek, Editorial and Opinions Editor with PennLive and the Patriot News; Robb Hanrahan, CBS-21 Anchor and host of Face the State; and Brad Bumsted, with LNP Media Group and LancasterOnline. Our host is Brian Lockman.

KD/PG Sunday Edition
CBS2-Pittsburgh-8:30 a.m.
This Sunday morning at 8:30 a.m., on KDKA-TV's "KD/PG Sunday Edition", with KDKA-TV News Anchor Ken Rice and Jerry Micco, Sunday Editor of the Pittsburgh Post-Gazette:
On this week's program, the painful aftermath of a mass shooting, in Canonsburg, Pennsylvania, Washington County – that resulted in the murder of Canonsburg Police Officer Scott Bashioum, the wounding of fellow officer Jimmy Saieva, and the death of Dalia Sabae – a pregnant woman, killed by her husband – Michael Cwiklinski – who eventually turned the gun on himself.
The incident began, when police officers responded to a domestic violence call – one of the most dangerous situations for law enforcement personnel.
Domestic violence, which knows no racial, economic, or regional limits, is a serious problem in this country and Southwestern Pennsylvania.
What's being done, to help its victims, prevent further violence, and provide protection – to stop future injuries and deaths?
Our guests include Kristin Clingerman, J.D. – Assistant District in Washington County – who prosecutes domestic violence cases, Allison Weakland – from Domestic Violence Services of Southwestern Pennsylvania – which services clients in Washington, Fayette, and Greene counties — who is a counselor and advocate for domestic violence victims, and Shirl Regan – President and CEO of the Women's Center & Shelter of Greater Pittsburgh.
Please join Ken Rice and Jerry Micco, for this important broadcast, on the "KD/PG Sunday Edition" – Sunday morning at 8:30 a.m., on KDKA-TV.
Pennsylvania Newsmakers
WGAL Channel 8 (Harrisburg and Lancaster) Sunday, November 20th at 11:30 a.m.
WBPH (Lehigh Valley and Philadelphia) Monday, November 21st at 8:30 p.m.
WKBS 47 (Altoona) Saturday, November 26th at 9:30 a.m.
WPCB 40 (Pittsburgh) Saturday, November 26th at 9:30 a.m.
This week's Pennsylvania Newsmakers features Auditor General Eugene DePasquale for an update on the state's tough fiscal situation and the findings of his office's recent investigations and audits. Then, joining host Terry Madonna is Terry Fitzpatrick, CEO of the Energy Association of Pennsylvania, for his analysis of Donald Trump's energy plan and an update on the state's sources of energy. Link here.

PMA Perspective
PCN-8:30 a.m.
This week we focus on metals manufacturing and the advocacy needed to help this paramount industry. Carl Marrara has a report from the Metals Service Center Institute's "Industry Night" in King of Prussia, Pennsylvania. David N. Taylor then hosts a newsmaker interview with U.S. Congressman Tim Murphy (R-18) about the status of the steel industry in Pennsylvania and what the federal government is doing to address illegal foreign steel dumping.
The Sunday Business Page
CBS2-Pittsburgh-6:30 a.m.
This Sunday at 6:30 a.m., on KDKA-TV's "The Sunday Business Page", with KDKA-TV's Money & Politics Editor Jon Delano:

On this week's broadcast, we'll take a look at the impact of Donald J. Trump's election, on the financial markets, stocks, bonds, and investors. Our guest is Louis P. Stanasolovich, CFP – Founder, President, & CEO of Legend Financial Advisors, Inc.

Then, broadcasting students at Point Park University's new and impressive Center for Media Innovation covered Campaign 2016 in a brand-new studio, broadcasting over the internet, including YouTube, on their "U-View" outlet. We'll talk with Blaine King – U-View's station manager – a broadcast reporting major – with a minor in public relations – and Joshua Croup – also, a broadcast reporting major and Editor-in-Chief of Point Park University's "Globe" newspaper – who also works for "U-View", and does on-air interviews. We'll ask them about the changing face of media – and how Point Park is preparing them, for that evolving profession.

Finally, as Pittsburgh's East Liberty neighborhood becomes more of a center for business and higher-rent housing, some long-time residents may face the need to relocate – within that neighborhood.

Paul Tedesco — Familylinks' Senior Director for Behavioral Health – joins us, to talk about the vital services that this non-profit organization offers – to help those who must move to another home.

"The Sunday Business Page" can be seen at 6:30 a.m., Sunday morning, and we invite you to be with us, for this timely broadcast.